Posted in
Announcement
,
Documentation
on May 6th, 2014 by admin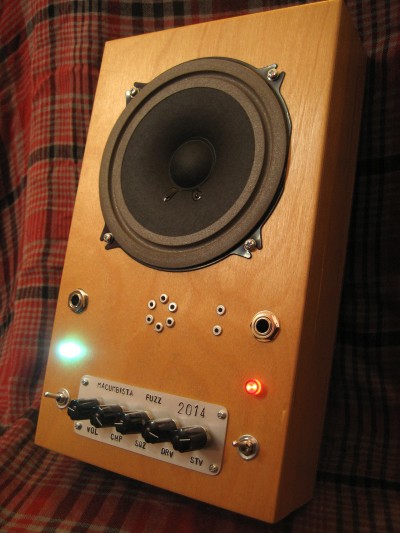 A new generation of the SoundBoxes is born, combining the touchable body contacts and high-gain portable amplifier from the original design with a nasty distortion with enough controls to keep your fingers busy wiggling for a long while.
OVERVIEW
* Large, high-efficiency (read: LOUD!) 12cm speaker
* High-gain input, suitable for contact microphone, electric guitar, etc. (Line level signals can be attenuated if clipping is not intended.)
* Line output
* Neutrik 6.3mm (1/4 inch) jacks on both input and output
* Four-control, switchable, extreme[!], vintage hand-selected Germanium transistor distortion
* Six "circuit-bending" touchpoints
* 9V battery operation
* Includes a resonant spring contact microphone.
This SoundBox could easily be used as a portable guitar amplifier with built-in distortion, for example, or can be used as an instrument in it's own right to create a wide range of electronic sounds and textures.
The sound of this instrument is quite similar to what can be heard in the following video (however the video was done with the SoundBox and FuzzTone distortion pedal as separate units). Through the creative use of feedback, as well as the CHP and SQZ settings on the pedal, generative tones and chaotic patterns can emerge:
nonlinearity I from macumbista on Vimeo.
The price is EUR 225 (incl. 19% EU VAT) / EUR 190 (shipped outside the EU) plus shipping. I will be taking further orders for this, the other types of SoundBoxes and also Benjolins starting in June.
Thank you for your interest and kind attention.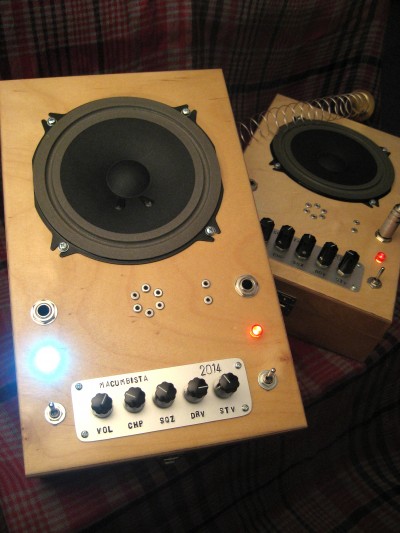 Tags:
for sale
,
photo
,
soundboxes
,
video