Sound+Space Awareness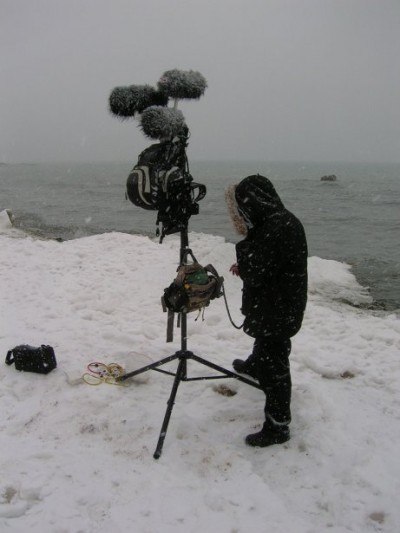 Lake Michigan recording, Milwaukee, WI, USA 2006 (photo: Rob Danielson)
THE ART OF FIELD RECORDING: OVERVIEW
Field recording, or phonography, is the art of recording sounds as they are found in situ, rather than those created in a studio or concert hall. There are as many ways of approaching field recording as there are field recordists, with interests ranging from recordings of natural or urban environments to improvised situations or soundwalks to the resonance of solid objects or the Earth's atmosphere.
This workshop introduces concepts currently affecting the areas of sound recording, sonic arts, installation, architecture and sound design, using environmental recordings as the basis for discussion and praxis. This workshop has been successful with students of music composition, cinema, architecture, game design, new media, anthropology and visual arts in providing an entry-point to the study and use of soundscapes in these various practices.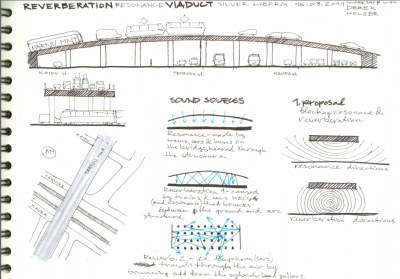 Reverberation Viaduct sketch by Silver Liiberg, from workshop with Architecture Dept, Estonian Academy of Arts, Tallinn 2011
OBJECTIVES: SOUND + SPACE AWARENESS
1) To learn how to listen to a given soundscape without any preparatory information (visual, verbal, text…) and pick out the relevant features and information in it (the "art of listening", or what Pauline Oliveros calls "deep listening").
2) To learn how to use field recording equipment and techniques in combination with this heightened sense of hearing-awareness to capture the features and information we hear (the "art of field recording").
3) To learn how to present these soundscapes to others as environments, compositions or in other forms (drawings, text etc).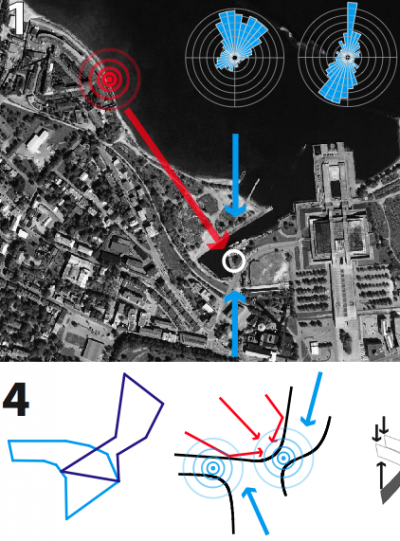 Sound Workshop Project (detail) by Artur Stashkevitsh, from workshop with Architecture Dept, Estonian Academy of Arts, Tallinn 2011
WORKSHOP DETAILS
The first step for anyone wishing to work with sound is learning how to listen. We will spend the first day listening to a selection of field recordings and discussing them in terms of the information they transmit about the time and place in which they were made, and the kinds of sonic effects they have on the listener.
The first session of this workshop also provides a theoretical introduction to the various microphone techniques and recording strategies used for field recording, as well as special tools which allow phenomenon such as physical motion, electromagnetic waves and light can also be converted into sound.
Further sessions consist of a critical listening session of recorded sounds brought by the participants. Key concepts to be explored include musical and cinematic metaphors of sound, composing the cityscape and communicating senses of place and space through sound. Final projects have included musical compositions, multichannel sound installations, site specific performances/interventions, architectural drawings and sculptural models.
WORKSHOP OPTIONS
One option for the workshop is to use one or two days for the participants to gather their own field recordings. In this case, either the participants should bring their own recording equipment when possible, or the hosting institution should provide them.
Low-cost binaural microphone kits can be made available for purchase (EUR 35 each) as well, please get in touch ahead of time if you would like a pair reserved for you.
MORE INFO
You can listen to a radio interview about one instance of this workshop, in Marfa, TX, USA, here:
http://marfapublicradio.org/wp-content/uploads/2013/01/130107-Derek-Holzer-LONG.mp3
MAX PARTICIPANTS: 12
LENGTH: variable
–One Day option: introductory lecture only
–Two Day option: introductory lecture plus feedback of participants' previously-made recordings
–Three/Four Day option: introductory lecture, field recording session work in public spaces, feedback of participants' workshop recordings
–Four/Five Day workshop: introductory lecture, field recording session work in public spaces, feedback of participants' workshop recordings, and work towards a final, public presentation of sound and graphical works based on workshop recordings and concepts.
LINKS
http://macumbista.net
http://soundtransit.nl
http://tunedcity.de
FURTHER READING/CLASS TEXTS
Jean Francois Augoyard: Sonic Experience–A Guide to Everyday Sounds
http://mqup.mcgill.ca/book.php?bookid=1780
HIGHLY RECOMMENDED!
Barry Truax: Handbook of Acoustic Ecology, available completely online
http://www.sfu.ca/sonic-studio/handbook/
Anne Kockelkorn, Doris Kleilein, Gesine Pagels & Carsten Stabenow: Tuned City – between sound- and space speculation
http://www.tunedcity.net/?page_id=401
Barry Blesser & Linda Salter: Spaces Speak, Are You Listening?
http://mitpress.mit.edu/catalog/item/default.asp?ttype=2&tid=10947
R. Murray Schafer: The Soundscape: Our Sonic Environment and the Tuning of the World
http://www.amazon.com/Soundscape-R-Murray-Schafer/dp/0892814551
Bonfire Recording, Almere NL 2009, photo by Kees van Mansom(km-fotografie.nl)
PREVIOUS WORKSHOPS
2013
Jan – Learning to Listen, Marfa Book Company, Marfa TX, USA
2012
Mar – Art of Field Recording, RISEBA, Riga, LV
2011
Nov – Sound Marathon, Studio Olafur Eliasson/UDK, Berlin, DE
Oct – sound+space awareness, Aarhus University, DK
May – Field Recording, Carleton College/IES Berlin, Berlin DE
Apr – Sound+Space Awareness, Tuned City/Give Me 5, Nuremberg DE
Feb – Tuned City:sound+space, Estonian Academy of Arts Architecture Dept, Tallinn EE
Feb – Field Recording, Royal Music Conservatory, Aarhus DK
Jan – Tuned City: sound+space, Estonian Academy of Arts Media Dept, Tallinn EE
2010
Jun – Field Recording, Klanglabor KHM, Cologne DE
May – Field Recording [w/ J.Grzinich & P.McGinley], Tuned City, Tallinn EE
May – Field Recording, Harvestworks, New York City NY USA
2009
Dec – Tuned City: Sound+Architecture, Klanglabor KHM, Cologne DE
2008
Aug – Field Recording, De Paviljeons, Almere, NL