Biography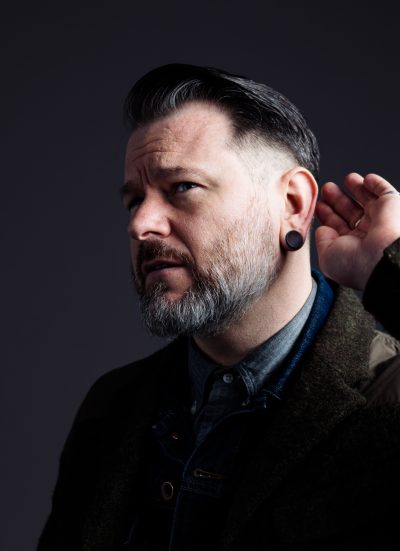 Derek Holzer (USA 1972) is a sound + light artist, teacher, instrument builder and independent researcher based in Helsinki & Berlin, whose current interests include DIY audiovisual electronics, the relationship between sound and space, media archaeology, and participatory art forms. He has performed live, taught workshops and created scores of unique instruments and installations since 2002 across Europe, North and South America, and New Zealand.
Previous installations, performances, and workshops have taken place at Transmediale (DE), CTM Fest (DE), Piksel (NO), Tsonami Festival (CL), Instants Chavirés (FR), FACTO (MX), Norberg Festival (SE), UH Fest (HU), WORM (NL), Bent Festival (USA), Lab.30 Festival (DE), Almost Cinema (BE), NETMAGE Festival (IT), Mapping Festival (CH), Tesla (DE), WRO Biennale (PL), Arts+Communications (LV), Medienturm (AT), Le Festival Accès(s) (FR), LAK Festival for Nordic Sound Art (DK), De Paviljeons (NL), Art Center Nabi (KR), Govett-Brewster Gallery (NZ), Dutch Filmfestival (NL), European Media Arts Festival (DE), Seeing Sound (UK), Share Conference (SRB), FILE Festival (BR), and many others.
Contact: macumbista AT THE DOMAIN gmail.com
A 17-page portfolio for 2018 can be downloaded here.
Full resolution photo of the photo above is available here. Please credit Ilkka Saastamoinen if used publicly.
EDUCATION
MA Sound in New Media, Aalto University, Helsinki FI (2019)
SELECTED PERFORMANCES
VECTOR SYNTHESIS
–iMAL, Brussels BE (2019)
–Festival Bruits Blancs, Paris FR (2019)
–Lafayette Electronic Arts Festival, Lafayette CO USA (2019)
–Emute Lab, Brighton UK (2018)
–VectorHack Festival, Zagreb HR/Ljubljana SI (2018)
–Pori Art Museum, Pori FI (2018)
–Mapping Festival, Geneva CH (2018)
–Seeing Sound, Bath Spa University, Bath UK (2018)
–AAVE Festival, Helsinki FI (2018)
–Contemporary Art Museum of Estonia, Tallinn EE (2018)
–Piksel, Bergen NO (2017)
–Noisy November, Viljandi EE (2017)
–MuTe Fest, Sibelius Academy, Helsinki FI (2017)
–Nordic Music Arts and Crafts festival, Copenhagen DK (2017)
–Meq Festival, Montpelier FR (2017)
–Simultan Festival, Timișoara RO (2017)
–Spektrum, Berlin DE (2017)
–Cirkulacija2, Ljubljana SI (2017)
–Ääniaalto, Vapaan Taiteen Tila, Helsinki FI (2017)
–Third Space Gallery, Helsinki FI (2017)
–De Player, Rotterdam NL (2017)
–Spektrum, Berlin DE (2015)
MACUMBISTA
–Instants Chavirés, Paris FR (2015)
–FACTO, Fonoteca National, Mexico City MX (2014)
–Tour of Non-Existent Villages (w/ M Donnaruma), Võrumaa EE (2014)
–Galerie Weisser Elefant, Berlin DE (2014)
–BITEVILNIUS Festival, Vilnius LT (2014)
–Tsonami Festival, Valparaiso CL (2013)
–Michael Strogoff Gallery, Marfa TX USA (2013)
–SPLAB/Det Jyske Kunstakademi, Aarhus DK (2012)
–Norberg Festival, Norberg SE (2012)
–Student Centre, Zagreb HR (2012)
–Electric Spring Fest, University of Huddersfield, Huddersfield UK (2012)
–Musikhuset/Det Jyske Musikkonservatorium, Aarhus DK (2011)
–Proximos 2011, Tenerife ES (2011)
–Musraramix #11 Festival, Jerusalem IL (2011)
–Apparat, Aalborg DK (2010)
–International Symposium of Electronic Art, Dortmund DE (2010)
–UH Fest, Budapest HU (2010)
–WORM, Rotterdam NL (2009)
TONEWHEELS
–Edith Russ Haus für Medienkunst, Oldenburg DE (2014)
–Manege/Museum Rabochiy i Kolkhoznitsa, Moscow RU (2014)
–Rotterdam International Film Festival, WORM, Rotterdam NL (2014)
–Eye for an Ear Festival, Berlin DE (2013)
–Le Festival Accès(s), Pau FR (2012)
–Multiplace Festival, Brno CZ (2011)
–Museum of Fine Arts, Dijon FR (2010)
–Danish Institute of Electro/acoustic Music, Aarhus DK (2010)
–Bent Festival, New York City NY USA (2010)
–DA Festival, Sofia BG (2009)
–Future of Light/Future of Sound, Goldsmiths, London UK (2009)
–OHP Festival, Malmo SE (2009)
–KUMU, Tallinn EE (2009)
–Nu-Fest, Padova IT (2008)
–Lab.30 Festival, Augsburg DE (2008)
–Almost Cinema Festival, Gent BE (2008)
–DNK, Amsterdam NL (2008)
–Full Pull Festival, Malmo SE (2008)
–NETMAGE Festival, Bologna IT (2008)
–"Waves" Exhibition, Phoenix Halle, Dortmund DE (2008)
–Residency, STEIM, Amsterdam NL (2008)
–Passengers International Festival of Public Art, Warsaw PL (2007)
–Residency, Tesla, Berlin DE (2007)
BIS ZUM TOD [w/Markus Öhrn, Institutet, & Ny Rampen]
–Nowy Teatr, Warsaw PL (2016)
–Théatre de Gennevilliers, Paris FR (2016)
–Inkonst, Malmö SE (2015)
–Baltic Circle Festival, Helsinki FI (2014)
–Zamek Culture Center, Poznan PL (2014)
–Volksbuhne, Berlin DE (2014)
–Nationaltheater, Mannheim DE (2014)
RAND [w/ Rob Curgenven]
–OT301, Amsterdam NL (2007)
–<tag>, Den Haag NL (2007)
–Le General, Paris FR (2007)
–Alula Ton Series, Leipzig DE (2007)
–Hoerbar, Hamburg DE (2007)
resonanCITY [w/ Sara Kolster]
–International Festival of Computer Arts, Maribor SI (2007)
–Video In Studios, Vancouver CA (2006)
–Denver University, Denver USA (2006)
–Art Museum of Nantes, Nantes FR (2005)
–Awarded Second Prize, WRO Biennale, Wroclaw PL (2005)
–FILE Festival, Sao Paulo BR (2005)
–Dutch Filmfestival, Centraal Museum, Utrecht NL (2005)
–Transmediale, Berlin DE (2005)
–Videomedeja, Novi Sad SRB (2005)
–Festival Pomladi, Ljubljana SI (2005)
–BEK, Bergen NO (2005)
–Kunstraum, Innsbruck AT (2005)
–Helikunst, Sadamateater, Tartu EE (2004)
–Piksel04 Festival, Bergen NO (2004)
–Arts+Communications 7, Riga LV (2004)
–Residency, K@2, Liepaja LV (2003)
OZONE [w/ Bas van Koolwijk]
–Earational Festival, S'Hertogenbosch NL (2003)
–Medienturm, Graz AT (2003)
SELECTED WORKSHOPS
VECTOR SYNTHESIS
–Finnish Light Art Society Helsinki, Helsinki FI (2020)
–Cinemateca de Bogotá, Bogotá CO (2019)
–Fundación Mustakis, Santiago CL (2019)
–Norberg Festival, Norberg SE (2019)
–Cable Factory, Helsinki FI (2019)
–Signallabor, Humbnoldt University, Berlin DE (2019)
–Aalto University, Helsinki FI (2019)
–NUMACircuit Festival, Tenerife ES (2019)
–Harvestworks, NYC, NY USA (2019)
–Rhode Island School of Design, Providence RI USA (2019)
–University of California, Santa Barbara CA USA (2019)
–University of Sussex, Brighton UK (2018)
–Kuusi Palaa, Helsinki FI (2018)
–Piksel, Bergen NO (2018)
–Nordic Music Arts and Crafts festival, Copenhagen DK (2017)
–Spektrum, Berlin DE (2017)
NEANDERTHAL ELECTRONICS/EXPR SOUND INSTRUMENTS
–MediaLab, Aalto University, Helsinki FI (2010-15, 2017-20)
–University of the Arts, Theater Academy, Helsinki FI (2017-19)
–Project Atol/OsmoZa, Ljubljana SI (2019)
–RITCS Academy, Brussels BE (2015, 2017)
–Aarhus University, Aarhus DK (2015)
–MAAJAAM, Otepää EE (2013)
–Migrating Art Academies, Berlin DE (2013)
–Sibelius Academy, Helsinki FI (2012)
–Det Jyske Kunstakademi, Aarhus DK (2012)
–Estonian Academy of Arts, Media Dept, Tallinn EE (2012)
–Danish Institute of Electro/acoustic Music, Aarhus DK (2011)
–Nordic Sound Art Masters Program, Malmo SE (2010, 2012)
–Apparat, Aalborg DK (2010)
–Hochschule für Gestaltung, Offenbach am Main DE (2010)
–Ptarmigan, Helsinki FI (2010)
–Queen Street Studios, Belfast UK (2009)
–Royal Art Academy, Copenhagen DK (2009)
–WORM, Rotterdam NL (2009)
–Lydgalleriet/Piksel, Bergen NO (2009)
–Tartu Art Week, Tartu EE (2009)
SOUNDBOXES
–Hola Folkhögskola, Prästmon SE (2013, 2015, 2017, 2018, 2020)
–Jersey Museum and Art Gallery, St Helier UK (2019)
–Pixelache Festival, Helsinki FI (2019)
–NODE Festival, Modena IT (2018)
–Estonian Art Academy, Tallinn EE (2018)
–Sonic College, Haderslev DK (2012-18)
–Meq Festival, Montpellier FR (2017)
–Sonoscopia, Porto PT (2016)
–Royal Art Academy, Copenhagen DK (2015)
–Instants Chavirés, Paris FR (2015)
–THE PASEO, Taos New Mexico USA (2015)
–Cultura Nova/KuS, Heerlen NL (2015)
–Institut für Klangforschung, Offenbach DE (2015)
–FACTO, Fonoteca National, Mexico City MX (2014)
–BITEVILNIUS Festival, Vilnius LT (2014)
–Trossingen University of Music, Trossingen DE (2014)
–WORM, Rotterdam NL (2014)
–Tsonami Festival, Valparaiso CL (2013)
–Mini-Maker Faire, Santiago CL (2013)
–Ptarmigan, Tallinn EE (2013)
–STPLN, Malmo SE (2013)
–LAK Festival for Nordic Sound Art, Copenhagen DK (2013)
–NK Projekt, Berlin DE (2010, 2012, 2013)
–Norberg Festival, Norberg SE (2012)
–Student Centre, Zagreb HR (2012)
–University of Huddersfield, Huddersfield UK (2012)
–Det Jyske Musikkonservatorium, Aalborg DK (2011)
–LJUD/Huset, Aarhus DK (2011)
–Share Conference, Belgrade SRB (2011)
–UH Fest 2010 Go Social! Tour, various locations HU (2010)
SOUND+SPACE AWARENESS
–Hola Folkhögskola, Prästmon SE (2017)
–7 Days of Sound, Vilnius Academy of Arts, Klaipeda LT (2017)
–Marfa Book Company, Marfa TX USA (2013)
–RISEBA University of Business, Arts and Technology, Riga LV (2012)
–Estonian Academy of Arts, Media Dept, Tallinn EE (2012)
–Carleton College/IES Abroad, Berlin DE (2011)
–Tuned City/Give Me 5, Nuremberg DE (2011)
–Aarhus University, Aarhus DK (2011)
–Estonian Academy of Arts, Architecture Dept, Tallinn EE (2011)
–Danish Institute of Electro/acoustic Music, Aarhus DK (2011)
–Harvestworks, New York City USA (2010)
–Tuned City, Tallinn EE (2010)
–Kunsthochschule für Medien Köln, Cologne DE (2010)
–De Paviljeons, Almere NL (2008)
TONEWHEELS
–Manege/Museum Rabochiy i Kolkhoznitsa, Moscow RU (2014)
–University of Huddersfield, Huddersfield UK (2013)
–DA Festival, Sofia BG (2009)
–TONEWHEELS, "Waves" Exhibition, Phoenix Halle, Dortmund DE (2008)
PURE DATA
–RISEBA University of Business, Arts and Technology, Riga LV (2011)
–Werkleitz/Hochschule für Kunst und Design, Halle DE (2008)
–Royal Art Academy, Copenhagen DK (2008)
–Videographe, Montreal CA (2006)
–Video In Studios, Vancouver CA (2006)
–Sibelius Academy, Helsinki FI (2006)
–Denver University, Denver USA (2006)
–Film Department, University of Wisconsin, Milwaukee USA (2006)
–University of Technology, Auckland NZ (2006)
–BEK, Bergen, NO (2005)
–Waygood Gallery, Newcastle, UK (2004)
–Centre for Contemporary Arts, Glasgow UK (2004)
–MUTE magazine, London UK (2004)
–Nederlands Instituut voor Mediakunst, Amsterdam NL (2004)
–École Européenne Supérieure de l'Image, Poitiers FR (2004)
OTHER
–Create Digital Music Hacklab, CTM Festival, Berlin DE (2013)
–Pure Data FLOSS Manual, NK Projekt, Berlin DE (2010)
–Ardour FLOSS Manual, moddr, Rotterdam NL (2009)
–xxxxx_temporary_structures, Club Transmediale, Berlin DE (2009)
SELECTED INSTALLATIONS
DELILAH TOO
–Edith Russ Haus für Medienkunst, Oldenburg DE (2015)
–CTM Festival, Berlin DE (2015)
TONEWHEELS
–Le Festival Accès(s), Pau FR (2012)
RAINFOREST [w/ Mads Bech Paluszewski-Hau]
–STUK, Leuven BE (2017)
–LAK Festival for Nordic Sound Art, Copenhagen DK (2012)
–BYiBY, Aarhus DK (2012)
–Full Pull Festival, Malmö SE (2011)
–Club Transmediale, Berlin DE (2011)
–Piksel Festival, Bergen NO (2010)
SOUNDTRANSIT [w/ Sara Kolster, Marc Boon]
–De Paviljeons, Almere NL (2008)
–Galerija Galzenica, Velika Gorica HR (2008)
–Art Center Nabi, Seoul KR (2006)
–Govett-Brewster Gallery, New Plymouth NZ (2006)
OZONE [w/ Bas van Koolwijk]
–WAVES Festival, Riga LV (2006)
–European Media Arts Festival, Osnabrück DE (2004)
–Medienturm, Graz AT (2003)
OTHER
–SoundBoxes, Muu for Ears, MUU Gallery, Helsinki FI (2012)
–12 Meter Power Chord, Styx Project Space, Berlin DE (2008)
–SonicOverlayMETAville (w/ EXYZT), Architecture Biennale, Venice IT (2006)
–Sonic Overlay, Centraal Station, Eindhoven NL (2006)
RESIDENCIES
–Media Arts and Technology, University of California, Santa Barbara CA (2019)
–Electronic Studio Radio Belgrade, Belgrade SRB (2018)
–Cirkulacija2, Ljubljana SI (2017)
–Signal Culture Toolmaker Residency, Owego NY USA (2015)
–MAAJAAM, Otepää EE (2013, 2014, 2016)
–Signal Culture Toolmaker Residency, Owego NY USA (2015)
–Edith-Russ-Haus for Media Art, Oldenburg DE (2014)
–MOKS, Mooste EE (2004, 2009, 2012)
–Danish Institute of Electro/acoustic Music, Aarhus DK (2011)
–Kunsthochschule für Medien Köln, Cologne DE (2009)
–Access Space, Sheffield, UK (2008)
–Tesla, Berlin DE (2007)
–Elektronmusikstudion EMS/Fylkingen, Stockholm SE (2007)
–Solar Circuit Aotearoa New Zealand (SCANZ), New Plymouth NZ (2006)
–STEIM, Amsterdam NL (2005, 2008)
–Medienturm, Graz AT (2003)
–K@2, Liepaja LV (2002)
ONLINE PROJECTS
–SOUNDTRANSIT.NL [w/ S. Kolster, M. Boon] (2006)
–BERLIN.SOUNDSCAPE-FM.NET [w/ S. Kolster, M. Boon] (2005)
–SOUNDSCAPE-FM.NET [w/ S. Kolster, Y. Dauby] (2004)
–KAROSTA PROJECT [w/ S. Kolster] (2002)
–ACOUSTIC.SPACE.LAB [w RIXC, Riga] (2001)
–RADIO JELENI, [w/ FCCA, Prague] (2000)
SELECTED LECTURES
"Probing the Past: A Media Archaeology of Handmade Electronic Sound"
–SCOPE Sessions, Berlin DE (2014)
–MusicMakers Hacklab, CTM Festival, Berlin DE (2014)
"A Brief History of Optical Sound"
–Eye for an Ear Festival, Berlin DE (2013)
–Danish Institute of Electro/acoustic Music, Aarhus DK (2010)
–Electronic Music Foundation, New York City NY USA (2010)
–Future of Light/Future of Sound, Goldsmiths, London UK (2009)
–Tesla, Berlin DE (2008)
–Nu-Fest, Padova IT (2008)
"Tuned City: Sound+Space Speculation"
–Helikoosolek, Tartu EE (2010)
–Electronic Music Foundation, New York City NY USA (2010)
–Kunsthochschule für Medien Köln, Cologne DE (2009)
"Tactical Media"
–University of Utrecht, Utrecht NL (2003)
–Medienturm, Graz AT (2003)
–SESC, Sao Paulo BR (2002)
SELECTED CURATION/ORGANIZATION
–VectorHack Festival, Zagreb HR/Ljubljana SI (2018, 2020)
–LAK Festival for Nordic Sound Art, Copenhagen DK (2013)
–Tuned City, Cultural Capital 2011, Tallinn EE (2011)
–Sommercampworkstation, Haus der Kulturen der Welt, Berlin DE (2009)
–Tuned City Event for Sound+Architecture, Berlin DE (2008)
–Music and New Media, Impakt Festival, Utrecht NL (2003)
–Next 5 Minutes Festival of Tactical Media, De Balie, Amsterdam NL (2003)
–Acoustic.Space.Lab RIXC, Riga LV (2001)
SELECTED RELEASES
–"100% Synthetic", Various Artists, Estuary Ltd USA (2018)
–"Machine Deva" Soundtrack, Derek Holzer & Steve Holzer, self-released USA/DE (2012)
–"Improvisations: febr-apr 2007", Derek Holzer & Rob Curgenven, self-released DE (2007)
–"Mandorla Autumn Soundscapes", Various Artists, Mandorla MX (2007)
–"Recorded in the Field By…", Various Artists, Gruenrekorder DE (2006)
–"Phonography.org 7", Various Artists, and/OAR Records USA (2005)
–"Untitled Songs. 49 Years From Gesang Der Jünglinge (2005-1956)", Various Artists, Sirr Records PT (2005)
–"Connected Dots Connected Ideas", Various Artists, Frozen Elephants Music DE (2005)
–"Kosta", Oloolo & Derek Holzer, Nexsound UA (2004)
AWARDS
–Stipend, Foundation of Lower Saxony, Edith-Russ-Haus, Oldenburg DE (2014)
–Grand Prize 2006 for Soundtransit.nl (w/ S. Kolster, M. Boon), NetArts.Org, Tokyo JP (2006)
–Second Prize for resonanCITY (w/ S. Kolster), WRO Biennale, Wroclaw PL (2005)
–Two Year Basis Stipendium, Fonds voor beeldende Kunsten, Amsterdam NL (2005)
SELECTED CONFERENCES & SYMPOSIUMS
–Experiments with Knowledge, Estonian Museum of Applied Arts and Design, Tallinn EE (2019)
–VectorHack Festival, Zagreb HR/Ljubljana SI (2018)
–Seeing Sound, Bath Spa University, Bath UK (2018)
–Share Conference, Belgrade SRB (2011)
–Future of Light/Future of Sound, Goldsmiths, London UK (2009)
–Arts+Communications 7: Trans-Cultural Mapping Festival, RIXC, Riga LV (2004)
–Trans-Cultural Mapping: Iceland Inside and Out, LORNA, Reykjavik IS (2004)
–Next 5 Minutes, Amsterdam NL (2003)
–Tactical Media Lab Brasil, Sao Paulo BR (2002)
–Net.Congestion Festival of Streaming Media, Amsterdam NL (2000)
–Arts + Communications 4, Re-Lab, Riga LV (2000)
SELECTED PUBLICATIONS
–Vector Synthesis: a Media Archaeological Investigation into Sound-Modulated Light (thesis publication of 800 copies), Helsinki FI (2019)–Canadian Electroacoustic Community, eContact! 19.2, Montreal CA (2017)
–Vague Terrain 19: Schematic as Score, Vague Terrain Journal, Toronto CA (2011)
–Ardour FLOSS Manual, FLOSS Manuals, Amsterdam NL (2009)
–Interview by Bertram Niessen, DigiCult Magazine 036, Milan IT (2008)
–Pure Data FLOSS Manual, FLOSS Manuals, Amsterdam NL (2008)
–Artist feature (w. B. van Koolwijk), Camera Austria 83/2003, Graz AT (2003)