Macumbista Benjolin V4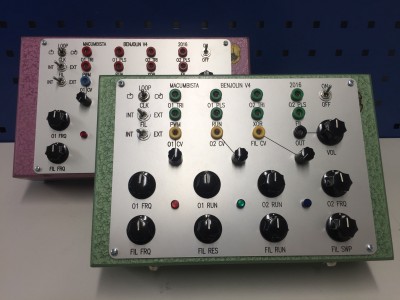 The Benjolin is a standalone synthesizer designed by Rob Hordijk from the Netherlands. It contains two oscillators (one LFO and one VCO), a voltage controlled filter and a circuit called a "Rungler", which allows chaotic cross-modulation possibilities between the different parts of the circuit. Hordijk refers to the Benjolin as a circuit which has been "bent by design."
These hand-made Macumbista Benjolins are officially licensed by Hordijk, and have been further customized with a patchbay, which can be used to interface with other modular synthesizers or to setup further control voltage feedback systems within the Benjolin itself, attenuators on the three control voltage input and LEDs displaying the internal state of the Rungler.
PRICE
The price of the Benjolin V4 is EUR 565 (incl. 19% EU VAT) / EUR 475 (shipped outside the EU), plus shipping costs. All my instruments are made-to-order, and require a 50% deposit to begin work.
Please contact me using the CONTACT page here, or through MACUMBISTA at-the-domain GMAIL dot COM.
MODIFICATIONS
The Benjolin V4 differs from the Benjolin V3, and contains the following modifications as standard:
LOOP SWITCH: The LOOP switch locks the otherwise chaotic pattern of the Rungler into a loop. The UP position is a loop of 4 steps going forward, the MIDDLE position is the normal chaos of the Rungler, and the DOWN position is a loop of 4 steps forwards and 4 steps backwards.
EXTERNAL INPUT SWITCH: The external input 6.3mm jack on the back of this Benjolin allows a signal from another source to be sent through the Low Pass Filter of the instrument. Selecting "EXT" on the FIL INPUT switch sends this signal to the FIL input, where the cutoff and resonance controls of the filter can be used to affect it. When the FIL INPUT switch is in the "INT" position, the PWM signal, mixed with a small amount of RUN voltage, is sent to the FIL (this is the normal Benjolin signal path).
EXTERNAL RUNGLER CLOCK:: A jack of your choice (banana or mini-jack) on the back panel of the instrument provides a switchable clock source for the Rungler of the instrument. The DOWN switch position clocks the Rungler from OSCILLATOR 2 of the instrument, the UP switch position clocks it from the external clock input.
Please note that you can click the first image on this page for hi-res details of the panel and design.
VIDEOS
Duelling Benjolins from macumbista on Vimeo.
Two Benjolins cross-patched to modulate each other function identically to the Dual "Butterfly" Benjolin.