Posted in
Announcement
on September 29th, 2020 by admin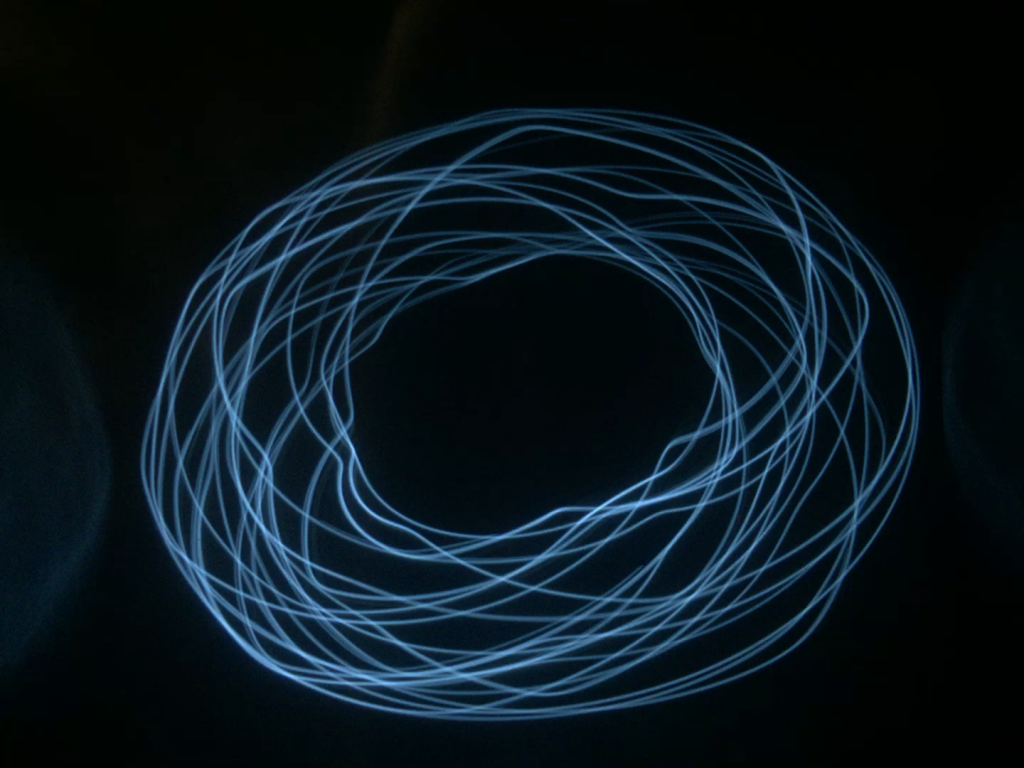 with DEREK HOLZER and VASULKA KITCHEN BRNO
Tuesday, 20 October, 2020 – 18:30 to 20:30
Thursday, 22 October, 2020 – 18:30 to 20:30
Tuesday, 27 October, 2020 – 18:30 to 20:30
Thursday, 29 October, 2020 – 18:30 to 20:30
The Vector Synthesis workshop, led by audiovisual artist and researcher Derek Holzer, investigates the direct relationship between sound and image. It draws inspiration from the work of artists such as Mary Ellen Bute, Nam June Paik, Steina and Woody Vasulka, and Gary Hill; from the media archaeology of computer graphics; from obsolete technologies such as the Cathode Ray Tube monitor, the Scanimate, and the Rutt/Etra Video Synthesizer; and from contemporary laser display techniques. This workshop is ideal for musicians, sound artists, animators, and visual artists who want to work with oscilloscope and laser imagery.
DATES: OCT 20/22/27/29 2020
TIME: 18:30-20:30 Central European Time
MAX PARTICIPANTS: 12
COST: FREE
---
Participants will learn how to draw Lissajous figures, render simple two- and three-dimensional shapes, and process photographs and video into vector artwork which can be displayed on oscilloscopes and ILDA laser displays using audio signals. These vector shapes can animated and further modified in real time using external audio sources such as voice, amplified instruments, or electronic synthesizers provided by the participants.
The core of the workshop will be ready-to-use examples written in the Pure Data programming language.
The language of this workshop is English.
The maximum amount of participants is 12.
---
REQUIREMENTS
No experience with Pure Data is required to participate, beginners are welcome. 
A background with either digital audio or digital moving image is helpful.
Participants are required to attend all four days of the course, and to complete three assignments in total between the sessions.
Participants should have their own computers, with software installed according to pre-event instructions sent by email.
Participants may wish to use an external audio interface or MIDI controller, however neither are required.
---
TIMETABLE
All sessions from 18:30-20:30 Central European Time.
Pre-workshop: participants should make sure all software required is installed and configured before the first session. Detailed instructions will be sent once participation is confirmed.
TUE 22.10.20: Installation questions, introduction to Vector Synthesis principles (vector vs raster images), introduction to Pure Data environment, working with signals to generate sound and image, first assignment.
THU 24.10.20: Viewing of first assignments, assignment questions, working with 2D and 3D image files, external audio inputs, second assignment.
TUE 27.10.20: Viewing of second assignments, assignment questions, working with digital image and video files (scan processing), MIDI and presets, third assignment.
THU 29.10.20: Viewing of third assignments, assignment questions, working with hardware (oscilloscopes, vector monitors, Vectrex consoles, ILDA laser displays), capturing with video cameras, conclusions.
By the end of the workshop, participants will have written at least three Pure Data compositions, one of which will be chosen and recorded to video for public presentation on the Vasulka Kitchen website.
---
HOW TO APPLY
Please write an email to Vasulka Kitchen vasulkakitchen@gmail.com with the subject line VECTOR SYNTHESIS WORKSHOP by the end of 04 OCT 2020 (23:59 CET). In this email, please describe:  
Your artistic background.
Why you are interested in taking this workshop.
Any experience you have with the creation of sound, moving image, and/or interactive media on the computer.
We will make a selection to ensure the most diverse group possible, and inform the selected participants by the end of 06 OCT 2020.
---
WORKSHOP INSTRUCTOR
Derek Holzer (USA 1972) is an audiovisual artist, researcher, lecturer, and electronic instrument creator based in Stockholm. He has performed live, taught workshops and created scores of unique instruments and installations since 2002 across Europe, North and South America, and New Zealand. He is currently a PhD researcher in Sound and Music Computing at the KTH Royal Institute of Technology in Sweden, focusing on historically informed sound synthesis design.
https://www.instagram.com/macumbista/
---
FURTHER INFORMATION
You can see examples of what you might do here:
You can view the Vector Synthesis code here:
https://github.com/macumbista/vectorsynthesis/
The homepage of the Vasulka Kitchen with a listing for this workshop can be found here:
Tags:
czech republic
,
vasulka
,
vectorsynthesis
,
workshop