Posted in
Announcement
on February 12th, 2012 by admin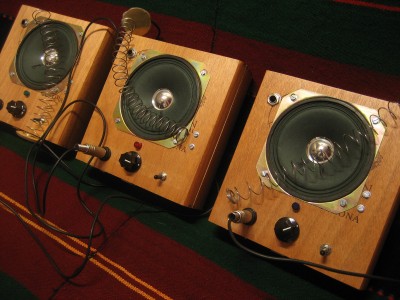 In what seems to be a time-honored tradition, I'm staying up all night before a 6am flight to my Electric Spring gig making new instruments. These I have named after both the festival and the resonant coil microphones they employ. Each one is a beautiful drone machine by itself, and when placed together they have a natural tendency to harmonize. This time I actually managed a line-out to connect to the mixer as well.
The performance is likely to be a live version of Nonlinearity III, as seen in this video, using all three SoundBoxes instead of clever editing to make the polyphony. My first SoundBox from Nonlinearity I may also make an appearance…
These three new Electric Spring SoundBoxes became available for sale after the concert in Huddersfield, 15 February 2012. Number one of three is already sold. Inquire via the Contact page.
Tags:
for sale
,
performance
,
photo
,
soundboxes
,
uk