Posted in
Announcement
on November 7th, 2010 by admin
nonlinearity I
nonlinearity I from macumbista on Vimeo.
After touring 3 weeks with 25 Kg of heavy metal synthesizer in a suitcase, I came home wanting something a bit lighter and simpler. My back-to-basics approach uses one SoundBox built for workshops with gypsy children and Afghan refugees in Hungary a few months ago, one contact mic, a Germanium transistor distortion pedal and 10 years worth of found objects collected on trips around the world.
At the heart of this video lies the concept of nonlinearity, that most basic building block of chaos theory and the wonderful complexities of our natural world. The microphone/speaker loop forms a system into which the nonlinear irregularities of 9V electronics, beads, springs, moss, shells and bits of bone produce unique bifurcations and attractors. Shaking things up a bit resets the system and new chaotic patterns begin to emerge…
SoundBoxes in Brussels
Three Neanderthal Electronics works of mine will be shown as part of the moddr_* showcase at iMAL in Brussels this month:
* BlueLightSpecial (2009)
* SoundBoxOne("handmade") (2010)
* SoundBoxTwo("indianblanket") (2010)
The show runs 13 November – 12 December 2010 and also features far more computer-oriented works by Gordan Savicic, Danja Vasiliev, Walter Langelaar, Julian Oliver, Martin Howse, Jonathan Kemp, Matt Kemp, Philip Lammer and Florian Cramer.
asbl iMAL vzw – 30 Quai des Charbonnages/Koolmijnenkaai 30 – 1080 Bruxelles/Brussel 1080
Opening on Saturday 13th of November, 15:00 – 23:30
with moddr_ workshop and performances, check the complete program! Finissage on Sunday 12th of December.
Opening hours:
Wed > Sat, 12:30 – 18:30. Free admission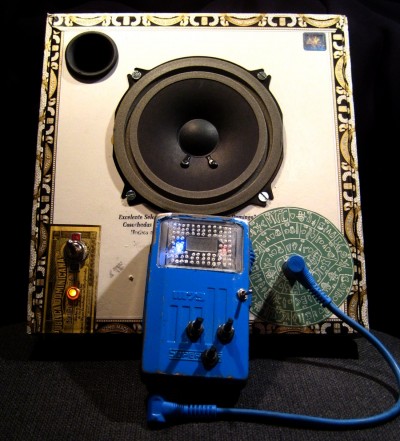 BlueLightSpecial + SoundBoxOne("handmade")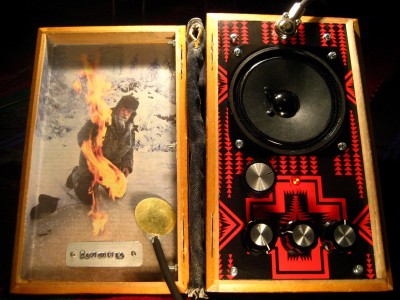 SoundBoxTwo("indianblanket")
Thanks to Walter Langelaar for the invitation!!!!
Tags:
belgium
,
chaos
,
exhibition
,
neanderthal electronics
,
photo
,
video