SoundBoxes Workshop

nonlinearity I from macumbista on Vimeo.
Discover the hidden sonic qualities of objects from our everyday world in this hands-on workshop, combining the arts of electronics, noise, sculpture and collage.
SoundBoxes are small, primitive electro-acoustic instruments built from a wooden box, a speaker, a small audio amplifier and a contact microphone. They can create a variety of drone and reverb-type sounds through feedback between the speaker and microphone, as seen in this video. Or they can bring out the hidden sounds found within everyday objects as seen in this video. They also have small touchpoints which can be used to produce a variety of "circuit bending" sounds.
This workshop requires a cigar box or similar wooden box to create the instrument. The box should be a minimum of 16cm tall x 9cm wide x 4cm deep, and the lid must not be thicker than 5mm. Please contact the hosting organizers of the workshop to find out if this box is provided or you must bring it yourself.
Participants may also wish to bring their own found objects and images to create a unique audiovisual cabinet of curiosities. Some guitar effect pedals can also make the box more interesting. All other tools, materials and speakers will be provided.
Further information and images can be found here: http://macumbista.net/?page_id=1897
MAX PARTICIPANTS: 12
LENGTH: approx 5 hours for simple building workshop, up to three days with additional hacking and improvisation possibilities
VIDEOS
SoundBoxes Workshop + Performance Berlin JUL 2015 from macumbista on Vimeo.
nonlinearity III from macumbista on Vimeo.
EXAMPLE SOUNDBOXES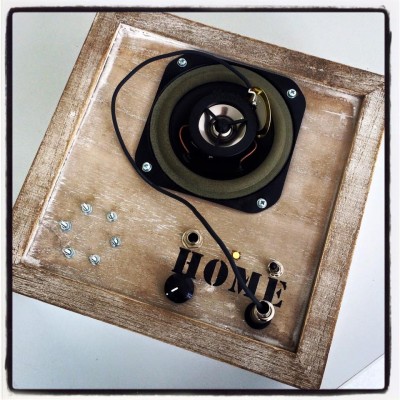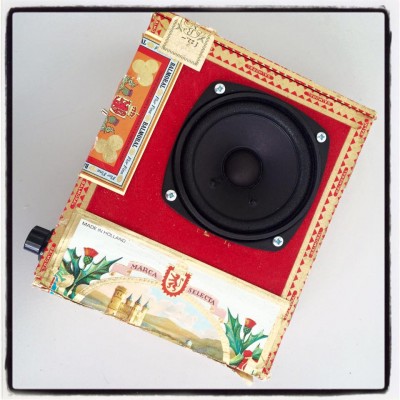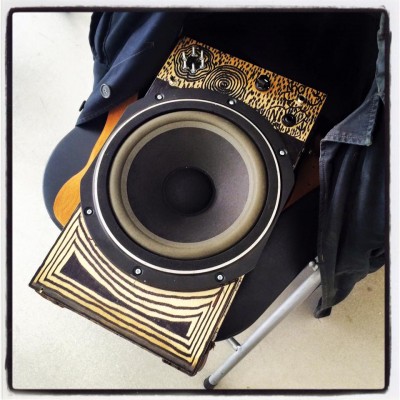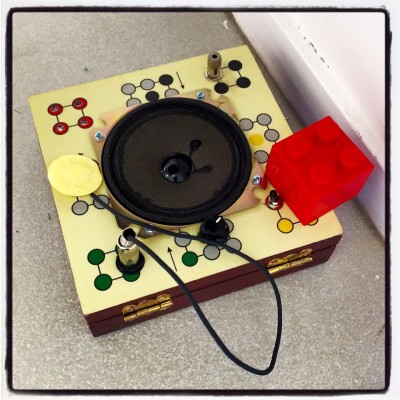 A FEW OF MY OWN SOUNDBOXES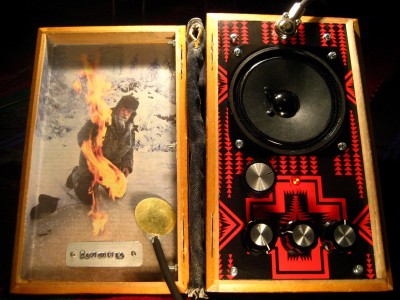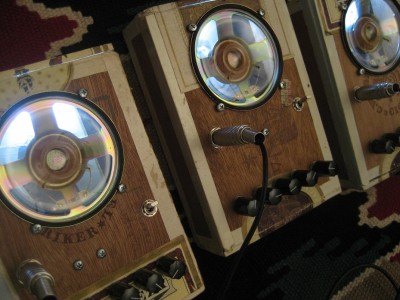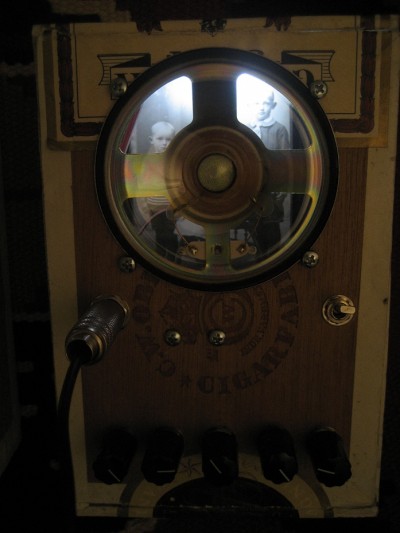 Ghost Lockets I-III, Aarhus DK Oct 2011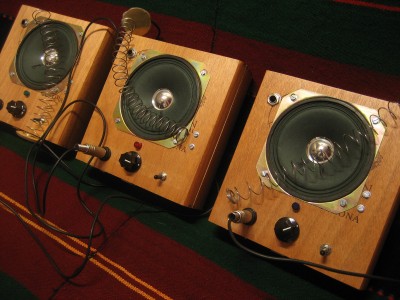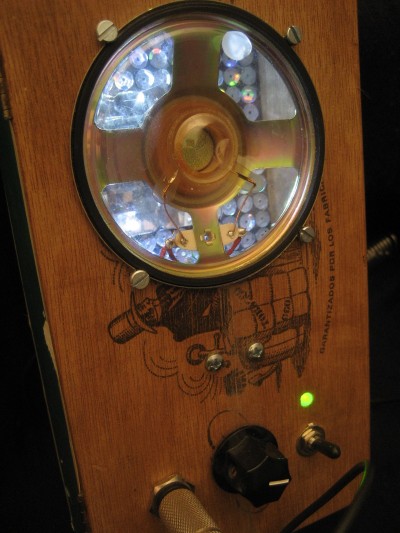 TECHNICAL NOTES
This image is available as a PDF
Please view and print these PDFs in a proper PDF viewer software such as Preview or Adobe Reader, as some web browsers (Firefox in particular) do not display the transparency in the image correctly.
Simple, right? This SoundBox circuit has a high-gain microphone input leading to a 1/2 Watt audio amplifier which drives a 1-20 Watt speaker, as well as an audio-responsive LED. Additional hacks include a line out for recording purposes and "circuit-bending" style body contacts to transform this SoundBox into a Michel Waisvisz-inspired CrackleBox, all of which will be covered in the workshop.
You can build this yourself, without the printed circuit board, on stripboard using this layout as well. You'll have to figure out the transistor which makes the LED audio-reactive, as well as the touchpoints, on your own however…
I have used a more complicated circuit with a built-in germanium distortion unit (such as that used in the Ghost Lockets series shown above). You can read more about that one here, but be aware that there is at least one mistake in the artwork which I have noted…
Please also have a look at my Neanderthal Electronics Workshop page for a slightly more technical workshop on noise electronics:
http://macumbista.net/?page_id=497
PREVIOUS + UPCOMING WORKSHOPS
2013
May – Stapelbädden, Malmö SE
May – NK Projekt, Berlin DE
May – Sonic College, Haderslev DK
2012
Jul – Norberg Festival, Norberg SE
May – NK Projekt, Berlin DE
May – Sonic College, Haderslev DK
Mar – Student Center, Zagreb HR
2011
Nov – Ljud/Huset, Aarhus DK
Nov – Det Jyske Musikkonservatorium, Aalborg DK
Jun – Proximos 2011, Tenerife ES
Apr – Share Conference, Belgrade SRB
2010
Nov – NK Projekt, Berlin DE
Sep – UH Fest Go Social! Tour, various locations HU
IMAGES FROM PREVIOUS WORKSHOPS