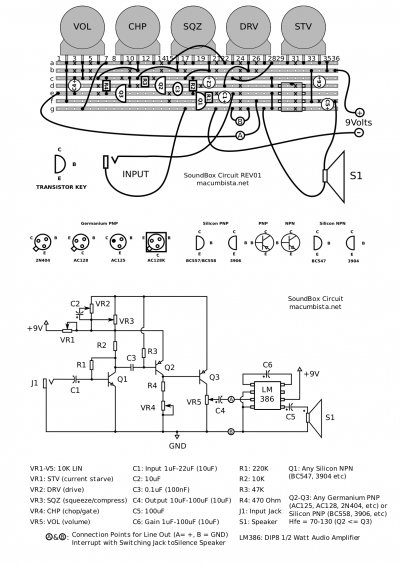 Just finished this schematic and stripboard layout for tomorrow's Neanderthal Electronics workshop at NK Project Berlin. This is a new approach to the NE concept, called simply SoundBoxes which you can read about here. Hoping to do more in the future, as well as making my own unique ones.
The circuit itself is quite simple. Take the reverse-engineered design of one very expensive boutique guitar pedal, slim it down a bit and run it through a half-watt amplifier into a speaker. It's an unpredictable little monster, which I like best while feeding it's own signal back to itself via a contact mic and any loose junk that happens to be within reach. Chaotic magic in the works, microcosms in the making…
ACHTUNG! Double check the pin orientation of the Germanium PNP transistors! I can sure for sure that at least the 2N404 is wrong, which may account for several failed builds during workshops. I will update the artwork eventually. Until then… Google is your friend.
All artwork draw by myself with help from these sources:
freestompboxes
solgrind
La Revolution Deux
Now Playing
crippled black phoenix–i, vigilante[2010 invada]
kevin drumm & tom smith–reconquer sleep or disappear[2010 savage land]
tindersticks–falling down a mountain[2010 4ad]
Tags:
neanderthal electronics
,
playlist
,
workshop