Posted in
Announcement
on November 11th, 2020 by admin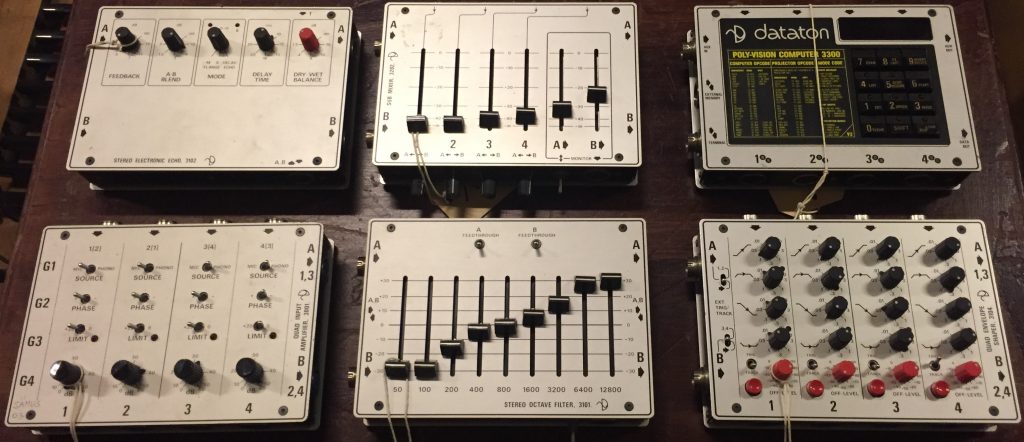 Henrik Frisk and myself are proud to announce a unique opportunity for students of KMH, KTH, and Konstfack to get involved with ongoing research into the history of electronic music in Sweden. The Sounds of Futures Passed workshop invites composers, engineers, and designers of sonic possibilities to investigate rare and unusual sound synthesis instruments formerly used at the Kungl. Musikhögskolan and Elektronmusikstudion EMS Stockholm.
We will speculate on what kind of aspirations for the musical future might have gone into the design and construction of these devices in the past, and on what sort of ideas about the use of sound instruments we can take from them into our own musical futures.
The workshop takes place over three ZOOM sessions (01 DEC, 08 DEC, 15 DEC), with team work taking place at KMH during the days between the meetings to compose with and analyze the functions of one specific instrument, the DATATON SYSTEM 3000 designed by Björn Sandlund in the 1970's.
Students can send questions or register their interest in participating by email to idholzer AT THE DOMAIN kth.se and henrik.frisk AT THE DOMAIN kmh.se with the subject line: SYNTH WORKSHOP
This is the first in a series of investigations, each focused on a different historical device from the collected archives of EMS, Statens Musikverket, and the Scenkonstmuseet, with the goal of producing new, historically-informed sound synthesis instruments and interfaces. The project is supported by the Swedish Research Council/Vetenskapsrådet.
Tags:
sweden
,
synthesizer
,
workshop