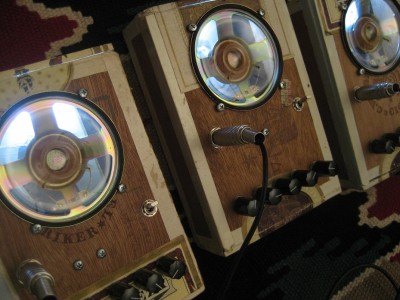 UPDATE: SOLD the whole edition to a collector in the States. I will be doing future runs of SoundBoxes soon, watch this space or get in touch to reserve yours.
I wanted to remind my dear readers that the three SoundBoxes of the Ghost Lockets series are still for sale. Price is EUR 120 each plus shipping (and USt for German buyers). The Ghost Lockets are enhanced SoundBoxes, incorporating a circuit based on a fancy boutique guitar fuzz with a spring-mounted contact microphone, 9V battery, 1/2 Watt audio amplifier, transparent speaker and audio-responsive lighting. Each one also contains a Danish ghost.
You can see more detailed photos of each here. Videos of two other SoundBoxes can be viewed here (similar design, no distortion) and here (different design, but recorded with distortion pedal), and these should give you an idea of how they can be played and what they sound like. I can shoot specific photos and videos next week for interested buyers. Handstamped nameplate on request.
Contact: macumbista AT THE DOMAIN gmail DOT com
Tags:
for sale
,
soundboxes