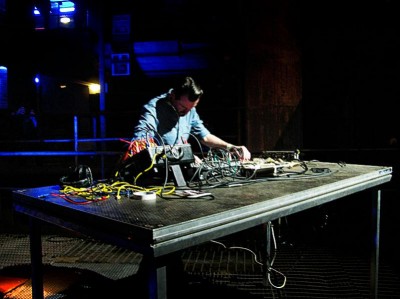 This morning I sat in the Marfa Public Radio studio with Rachel Lindley and talked about my Learning to Listen workshop. Rachel was fantastic, she really has The Voice and from the one-paragraph press release, she asked the most intelligent questions that just about any journalist has ever asked me. I really feel like this interview gives a comprehensive overview of how I present the concept of the soundscape in a workshop situation.
You can listen to the whole interview (approx 30 min) at:
http://marfapublicradio.org/wp-content/uploads/2013/01/130107-Derek-Holzer-LONG.mp3
The workshop itself at the Marfa Book Company went extremely well, with at least 25 folks both nights. In the usual style, I played several field recordings from various corners of the globe, and together we figured out what kind of of information–both subjective and objective–we can learn from a recorded or composed soundscape. Thanks especially to Tim Johnson for hosting this experience.
I will play a set for modular synthesizer, locally found objects and SoundBox, at the Michael Strogoff gallery, 124 E. El Paso St, Marfa, Texas at 8PM on Wednesday 09 Jan. Y'alls are welcome!
Now Playing
kevin drumm–relief[2012 emego]
mika vainio, kevin drumm, axel dorner, lucio capece–venexia[2012 pan]
tim hecker & daniel lopatin–instrumental tourist[2012 sstudios]
Tags:
interview
,
photo
,
playlist
,
usa
,
workshop