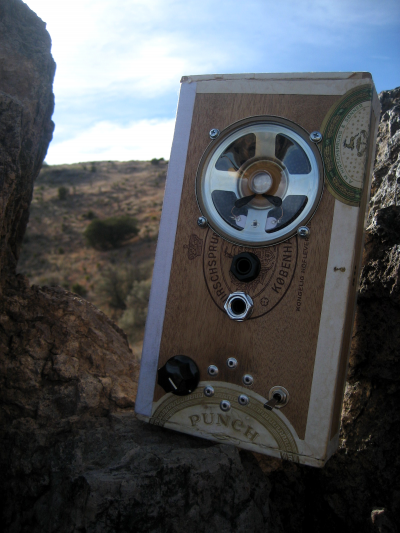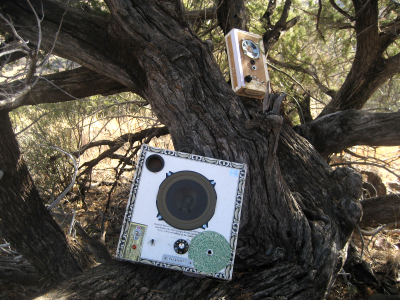 LEARNING TO LISTEN: an Artist Talk and Workshop with Derek Holzer
Jan 06-07 2013, Marfa Book Company, 105 South Highland, Marfa, Texas 6PM-8:30PM
Jan 09 2013, Michael Strogoff, 124 E. El Paso St, Marfa, Texas 8PM
http://www.facebook.com/events/482451101793088
http://www.facebook.com/events/531958506823249
http://www.facebook.com/events/520745507958609
I do what I do because I never learned to play the guitar. Starting with an interest in field recording and environmental sound, I soon moved to teaching myself to build first digital and then analog non-traditional sound instruments as a way out of the problems of "virtuosity" in music. A great deal of my work involves simply listening, whether to natural or electronically generated soundscapes, searching for that beautiful chaos of birds, hailstorms or cicadas that produce the kinds of dense, arrhythmic textures that I enjoy the most.
As my work is so much about learning to listen, this two day artist-talk and workshop will focus on the art of listening. I'll start by introducing my history, my practice and the instruments I create. We'll continue by listening to several field recordings by myself (and possibly others), using these as a springboard to talk about listening from the perspectives of both science (physics, acoustics, psychoacoustics, psychology, etc) and culture (musicology, anthropology, architecture, urban planning, film studies, etc).
There will be opportunities on the second day for workshop participants to play and discuss their own soundscapes, and we will work towards a definition of what "soundscape" actually means. The workshop concludes with an introduction to some of the tools I use to both record natural soundscapes and create my own electronic soundscapes.
This workshop is open to the public and participation is by a donation of your choice. Please bring your own paper and a writing/drawing tool as these will be very important during the workshop!
I will also make an approx 40 minute live performance on Weds, 09 January at 8:00PM in the Michael Strogoff art space, 124 E. El Paso St. The performance is also free or by donation.
DAY ONE – Sunday 06 January 2013 18:00-20:30
Marfa Book Company, 105 South Highland, Marfa, Texas
–Introduction to Holzer's work: field recordings, digital instruments, analog instruments
–Introduction to Soundscapes: R. Murray Schafer, Pauline Oliveros, Chris Watson, CRESSON, John Cage and others
–Listening Exercises I: field recordings from around the world by Holzer and others
DAY TWO – Monday 07 January 2013 18:00-20:30
Marfa Book Company, 105 South Highland, Marfa, Texas
–Continuing Soundscapes: working towards a definition of the soundscape, the difference between soundscape and "music"
–Listening Exercises II: soundscapes from around the world by Holzer, others and participants
–Tools of the Electronic Soundscape: field recorders, microphones, software, synthesizers, effects
DAY THREE – Wednesday 09 January 2013 20:00
Michael Strogoff, 124 E. El Paso St, Marfa, Texas
–Live sound performance for found objects, SoundBox and analog modular synthesizer
ABOUT THE ARTIST
Derek Holzer (1972) is an American sound artist based in Berlin, Germany, whose current interests include DIY analog electronics, sound art, field recording and the meeting points of electroacoustic, noise, improv and extreme music. He has played live experimental sound, as well as taught workshops in noise art technology, across Europe, North America, Brazil and New Zealand.
http://macumbista.net
Tags:
performance
,
photo
,
soundboxes
,
texas
,
usa
,
workshop