Rokolectiv Soundcamp
Star Dome, Rucar, Romania
27.07 – 02.08.2009
Artists:
Suzana Dan, Sergiu Doroftei, Camil Dumitrescu, Ion Dumitrescu, Derek Holzer, Catalin Matei, Eric Minkkinen, Paul Popescu, Daniel Stanciu
With support from AFCN – Romanian Ministry of Culture
Partners: MNAC Lab, Ableton Live, Collectif Mu, CTM Berlin, Star Dome s.r.l.
Rokolectiv Soundcamp is a seven days artistic residency for sound experiments and field recording. Ten artists will work out of the urban context in a studio hosted by the prototype of the Star Dome in Rucar, an innovative house turned into a space for artistic residency. Star Dome is a modular dwelling, one of the few sustainable architecture structures in Romania.
Rokolectiv Soundcamp promotes an artistic and cultural research, an investigation of the natural landscape with its acoustic and language peculiarities. The project consists of individual field recording sessions, as well as workshops, panels and debates for and with the artists involved. The works realized during the residency will be gathered on a promotional CD.
Rokolectiv Soundcamp is the follow up of European Sound Delta, a broader sound art project co-organized by Rokolectiv in summer 2008, when international artists took part in a mobile residency navigating upstream on the Rhine and Danube.
If you wish to say hi you are invited to join us at Rucar between July 27th and August 2nd. The access to the Romanian mountain resort can be done by public buses which leave daily from Bucharest or by train to Brasov, and then by local shuttles to Rucar.
For further info feel free to contact us at: info@rokolectiv.ro
Significant Other
An Estonian friend joked with me once that while some people carry around photos of their girlfriends, I have photos of my synthesizers. In keeping with that thought…after my almost completely disastrous weekend in Copenhagen (even the moon let me down), I decided to focus on something real this week. So this is a preview of a new case I'm working on–a clone of the Buchla 200e. Still some things left to do, as you can see, before I start putting the modules in. Big thanks to Ingo Fröhlich for help with the woodwork!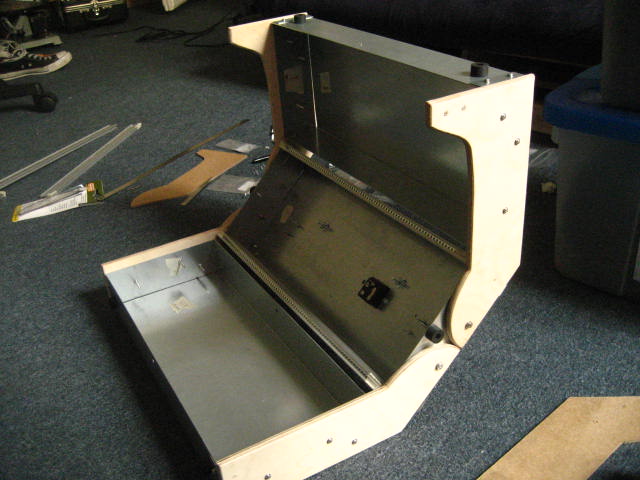 Now Playing
cabaret voltaire–2×45[1982 rough trade]
emeralds–allegory of allergies[2007 gods of tundra]
hive mind–a feast within cs[2009 gods of tundra]
jarboe–mahakali[2008 the end]
mircea eliade–shamanism: archaic techniques of ecstasy book[1964]
mrtyu!–ornate shroud[2009 fauna sabbatha]
nadja & black boned angel–nadja & black boned angel[2009 20 buck spin]
neurosis & jarboe–neurosis & jarboe[2003 neurot]
swans–children of god+world of skin[1997 young god]
swans–filth+body to body, job to job[2000 young god]
yellow swans–mort aux vaches[2009 staalplaat]
Tags:
playlist
,
synthesizer
,
workshop