Neanderthal Vocal Computer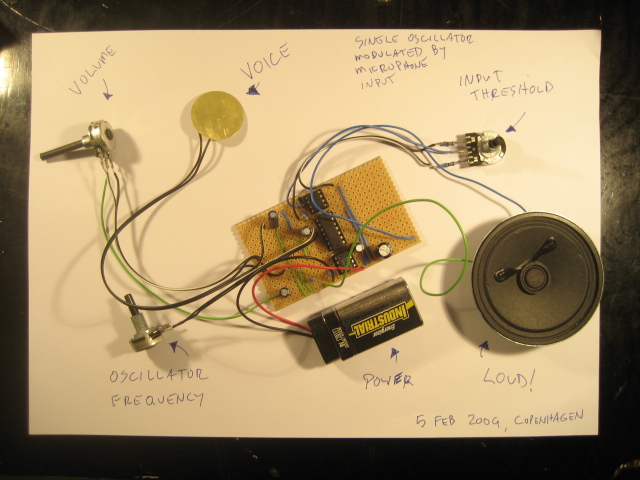 Saturday 18 July 2009 2PM


_____-micro_research, pickledfeet, Linienstrasse 54, Berlin 10119


U2, Rosa-Luxemburg-Pl.
U8, Rosenthaler Pl.


Telephone: 3050187482.
Cost: EUR 10-15?
Please email m@1010.co.uk to reserve a place (strictly limited)

This workshop combines three of the basic building blocks of the longer Neanderthal Electronics workshop (TL072 op-amp comparator, 4093 gated oscillator & LM386 audio amplifier) to create a very crude, caveman-style analog computer for the processing of vocal input through a microphone. Participants will learn some analog and digital electronics basics to create an experimental prototype on the solderless breadboard, then recreate the circuit with permanent connections. They are also expected to bring their own box, case or other object in which to construct the final circuit. The last part of the workshop will touch on how this circuit can be expanded later on to include all kinds of mixers, modulators, distortions and filters through the use of other cheap, easily obtained parts.
For more information and videos from the Neanderthal Electronics workshops, see:
http://www.vimeo.com/album/64426
Ring of Fire
Due to popular demand, and as a way of saying "thank you" to Ingo Froelich who helped me with some woodworking for my new synthesizer, I'll be cooking another transcendental(ly hot) chili at the amazing courtyard gallery at Torstrasse 111 for the opening of Erling TV. Klingenberg and Marcin Szydlowski. Also showing from th eprevious opening is the highly recommended "Return of the Art Zombies" video by Veronika Schumacher and the rather Texas-style paintings of Silke Thomas. Kickoff is at 19.00.
Friday 17 July 2009 19.00
Torstrasse 111 Berlin
Erling TV. Klingenberg and Marcin Szydlowski
Veronika Schumacher and Silke Thomas
http://www.tor111.de
Now Playing
anthony pateras & robin fox–end of daze[2009 editions mego]
iannis xenakis–metastasis pithoprakta eonta[1993]
va–black mirror:reflections in global musics 1918-1955[2007]
z'ev–sum things[2009 cold spring]
Tags:
berlin
,
neanderthal electronics
,
photo
,
playlist
,
synthesizer
,
workshop