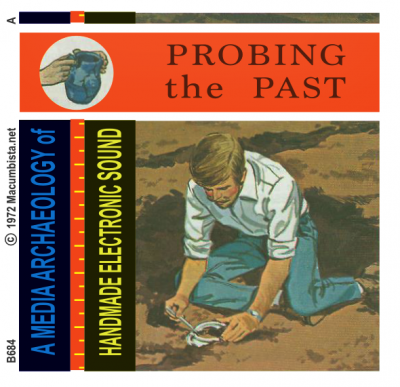 I have two presentations in the CTM Festival in Berlin next week, one during the MusicMakers HackLab Conversations alongside such luminaries as Marije Baalman and Robert Henke, and the other during the Education Networking Day. Details below. Hope to see y'all there!
MUSICMAKERS HACKLAB CONVERSATIONS
Weds 29 Jan at Kunstquartier Projektraum
15h // Probing the Past: A Media Archaeology of Handmade Electronic Sound
Derek Holzer/Macumbista.net
The utopias of electronic sound have hardly changed in its hundred-year history. We still want to imitate existing instruments, create sounds which have never been heard before and realize complex compositions without the need of an orchestra. It is only the tools which have become more complex. But there are dystopias as well, which come especially from using tools designed around other people's way of creating sound, rather than your own. Instrument builder, teacher and performer Derek Holzer of Macumbista.net will discuss the inspiration of some of the pioneers of 20th Century electronic sound (including those found in the "Generation Z: ReNoise" exhibition) as springboards to some of his own creations, which the audience will have a chance to explore following the talk.
EDUCATION NETWORKING DAY
Sat 01 Feb at HAU 3
13:10 Neanderthal Electronics: Teaching Arts and Technology
Derek Holzer [USA/DE, macumbista.net]
Over the last six years I have developed a workshop program designed to teach art students without in-depth technical backgrounds about basic electronics and instrument building, which has been hosted by several, mainly Nordic schools of art, music and design. During this talk, I will share some observations about the relationship of arts and technology in education resulting from these workshops.
Tags:
berlin
,
club transmediale
,
lecture
,
photo