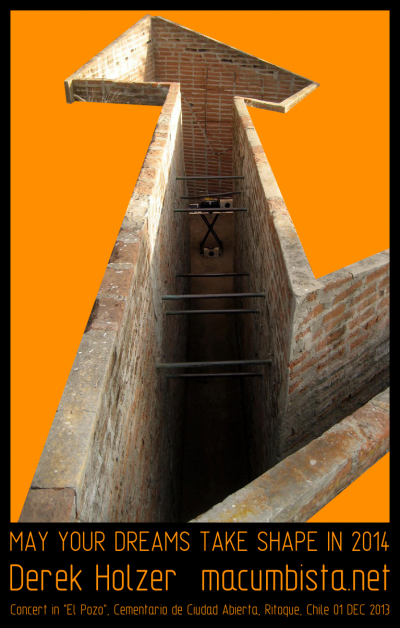 2013 took me from the high desert plains of Marfa, Texas to the northern countryside of Västernorrland, Sweden and the end of the world in Patagonia, Chile. It also saw the start of what is becoming quite a nice little occupation building handmade electronic sound instruments! And it went by so fast that I'm still making sense of it all…
I would like to thank the following folks for helping me on my way this last year: Tim Johnson, Nicolas Miller, Peter Kirn, Jan Rolf, Antti Ikonen, Carsten Stabenow, Mindaugas Gapsevicius, James Brewster, Markus Öhrn, Andreas Catjar, Timo Toots, John Fail, Katrine Møllebæk and the rest of the LAK crew, Andrew Dorman, Rasmus Lunding, Johannes Ahlberg, Johan Markwall, Björn Eriksson, Jake Harries, Derek Hales, Montse Torreda, Nataniel Alvarez and LiquenLab, Pablo Guerra, Claudia Gonzalez + Macarena Pola and the MakerSpace Santiago, Oscar Santis, Fernando Godoy + Rodrigo Ríos Zunino and the Tsonami Festival, Kathy Hardin, Steve & Daeryl Holzer, Tarin Lewis, as well as all the fantastic people I've met on the road!
I'll be bunkering down in Berlin for a little while now, building more noise machines and planning my further travels.
One other thing I must mention, is that my father (whom I made the Machine Deva soundtrack for) has recently been diagnosed with cancer and is currently undergoing serious medical treatments. Like many Americans, and certainly like many American artists, he currently has no health insurance and the costs of his treatment have been quite high. I have been amazed at the support of his friends and family in Marfa Texas, as well as around the world, who have come together to help him. And one of my biggest wishes for 2014 is to see him well again. If you would like to know more about this, please click here.
May all your dreams take shape in 2014!
My best wishes from Berlin,
Derek
Tags:
photo