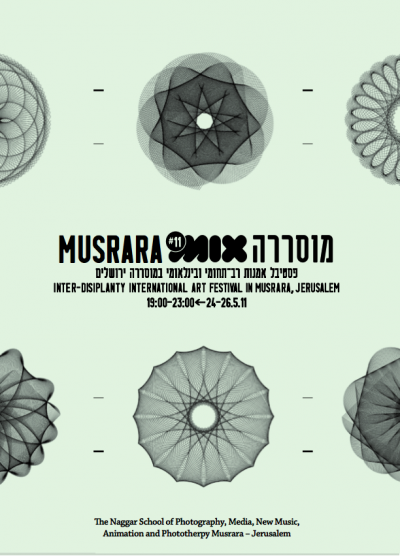 Musrarmix #11 Festival, The Naggar School of Photography, Media, New Music, Animation and Phototherapy, Jerusalem IL
PERFORMANCE 25.05.11, 20.30
More than just noise, a Macumbista live performance summons the chaotic, generative powers of a self-made, analog modular synthesizer in an improvisational setting which explores the physical affects of volume, frequency and complexity. For fans of Maryanne Amacher, Bernard Parmegiani, Eliane Radigue and Slayer.
TALK/WORKSHOP/PRESENTATION 26.05.11, 14.00
A few years ago, I largely abandoned the digital sound world to spend time building a modular analog synthesizer which reinterprets and hybridizes the forms and functions of the famous Serge and Buchla systems of the 1970s. In this presentation, I will explain the different functions of this Macumbista Modular as well as give attendees the chance to create generative sound patches on the instrument.
Plus some other stuff I will write about on my return for security reasons.
Recent Travel
Spent last week (16-20.05.11) in Riga, teaching  Pure Data lessons to the video students of the Riga International School for Economics and Business (RISEBA)–or trying to, at least. Sometimes it's hard to get very far when MTV clips are the height of sophistication for most of the workshop participants, but we did alright. The school had this amazing "professor's apartment", done up with the remainders of the wood furniture factory which used to occupy the building. Probably the only time in my life I will be in possession of a penthouse suite!
Previous to that, there was a series of TONEWHEELS gigs in Brno, Prague and Orleans. The Brno one was probably the best, and with it came the chance to talk lasers and sound with Australia's "ZZ Laptop" himself, Robin Fox. Great set, friendly bloke, enthusiastic audience. All-in-all a good night.
Tags:
lecture
,
performance
,
synthesizer