Yes indeed I have been traveling and working almost nonstop since the start of the Year. A quick rundown of my activities:
09-15 Jan 2011 – Mechanical Sound Instruments workshop, TAIK University of Art and Design, Helsinki FI
Workshop = awesome! Design students built Arduino-powered electro-acoustic instruments like this one below. I'll be editing video docs I made in Helsinki soon.
Electro-Acoustic Musical Instrument from Palash on Vimeo.
Hotel room = passable. Töölö Towers is the University's home for wandering academics, with a very institutional vibe, spotty wifi coverage and full length mirrors for me to shoot very serious-looking self portraits in…
18-21 Jan 2011 – Tuned City: sound+space workshop, Estonian Academy of Arts Media Dept, Tallinn EE
Workshop = 5.5 out of 10. I'm still figuring out what kind of tools are necessary to crack the shells of the Estonian oysters. After some prodding, most of the students really gave their best in making and discussing the recordings. One girl Facebooked and texted the entire workshop until I pointed out that her computer was "broken" and she'd be better off at home.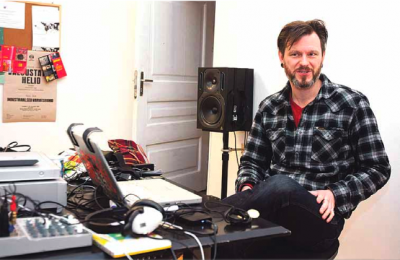 Hotel = decent. Maneezi house, guestrooms of the Estonian Arts Academy, has everything you would ever want in a post-Soviet flat…a long flight of stairs, some heavy metal doors, a warm radiator and even running water.
01-05 Feb 2011 — Regenwald2011 workshop+installation, West Germany/Club Transmediale, Berlin DE
Workshop = mostly good. Trying to wrangle seven very different artistic personalities into one piece in only five days is never easy. I have decided that giving them less freedom rather than more is the only solution. The audience response to the piece, on the other hand, was quite positive and enthusiastic.
Hotel = not applicable. One of the longest stretches I've been able to sleep in my own bed in ages!!!
07-11 Feb 2011 – Field Recording workshop, Royal Music Conservatory, Aarhus DK
Workshop = one of the best! Very high level of capabilities by these composition students at the Electronic Music department there. I gave them one hour to take three random one-minute field recordings from their neighbor and make a short piece out of them, and they all pulled it off! And that was only one of the exercises. If only every group I taught had their shit so together.
Hotel = comical. The Cabinn is a concept hotel, they told me. As near as I can figure, the concept was to make the hotel room itself as much like the sleeping couchette on an overnight train as possible.
A few weeks later I saw an exhibition of living/working spaces by French-Israeli artist Absalon at the KW Berlin. Made to the measure of his own body, and likely inspired by the fact that most of the artist's short life was spent in the Israeli military, the constructions impressed me as the ideal prototype of future dehumanizing architecture for the 21st Century.
12-14 Feb 2011 – Tuned City:sound+space, Estonian Academy of Arts Architecture Dept, Tallinn EE
Workshop: another five and a half. The concept here was to teach architects to experience urban space through sound, and this worked pretty well. The students brought in recordings of various spaces around Tallinn for us to listen to and analyze. My mistake was in giving them "homework" for the last day. Despite assurances from everyone that they had time and energy to do it, only two came back the next day.
Also during this week I braved the -25C weather to investigate some locations for next summer's Tuned City event, such as the lobby of the Linnahall, a disused auditorium/ice rink constructed for the 1980 Olympic games.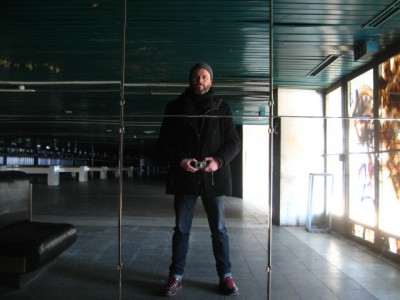 Hotel: deceptively posh. Somehow I was taken in by the spacious rooms, tall windows, tacky wallpaper and inoffensive framed prints of the Old Town Maestro. Until I realized that the strip-club-disco downstairs wouldn't stop the party until 7am.
23-27 Feb 2011 – Neanderthal Electronics, NK Project, Berlin DE
Workshop = can I call this an 8? What should have been a warm homecoming was dampened by some kind of breakdown in publicity. The three guys that did show up for the workshop kicked some serious ass though, and made really nice boxes which they played the following Monday for the Experimontag at Madame Claude. Photos and such soon.
Hotel = forget it! I locked the door to my flat and stayed in bed for three whole days when all this was over.
Now Playing
ben frost–live at berghain, berlin 24.02.11
earth–angels of darkness, demons of light I[2011 southern lord]
eleh–radiant intervals[2011 important]
flower travellin' band–anywhere[1970 philips]
tim hecker–ravedeath 1972[2011 kranky]
Tags:
berlin
,
club transmediale
,
denmark
,
estonia
,
field recording
,
finland
,
germany
,
neanderthal electronics
,
photo
,
playlist
,
video
,
workshop