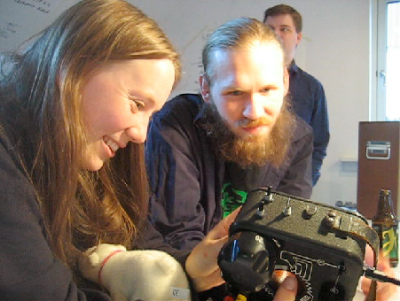 Neanderthal Electronics workshop presentation
by students of the hfg Offenbach, Elektronische Medien
…plus Macumbista live analog electronics set
Monday 14 June 2010, 19:00-21:00
Waggon am Kulturgleis, Main riverbank near Isenburger Schloß, Offenbach
Neanderthal Electronics
The Neanderthal Electronics workshop involves 8-10 people with no previous background in electronics. They are shown how to use simple objects from our modern environment (resistors, capacitors, transistors, LEDs, integrated circuit chips…) to design and build their own personal, customized primitive noise synthesizers. Each is a tiny world of its own, using primitive analog computers in combination with feedback, sensors and audio inputs to create a unique sound. Even from the same plan, no two are alike!
Participants are encouraged to use found materials for the construction of their personal instrument, with an emphasis on discovering creative and physical methods of controlling the them. The workshop concludes with a group performance and an invitation to the audience to experiment with each of the instruments which have been created.
Info + photos/video: http://macumbista.net/?page_id=497
Macumbista
Macumbista (aka Derek Holzer (1972)) is an American sound artist living in Berlin, whose current interests include DIY analog electronics, sound art, field recording and the meeting points of electroacoustic, noise, improv and extreme music. He has played live experimental sound, as well as taught instrument building and audio recording workshops across Europe, North America, Brazil and New Zealand.
Holzer is currently a fellow at the KHM (Kunsthochschule für Medien Köln) in Cologne.
Info: http://macumbista.net/
Now Playing: Estonian Doom!!!

karl kello–the pharaoh of the north book[2004]
talbot–eos cdr[2010 self-released]
voog–demo cdr[2010 self-released](aitäh terje!)
Tags:
germany
,
neanderthal electronics
,
performance
,
photo
,
workshop