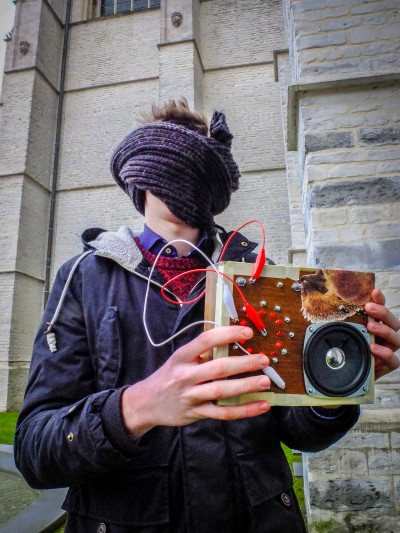 SoundBoxes Orchestra Performance
19 JUL 2015
Atelier Macumba
HB55 Kunstfabrik, Herzbergstrasse 55 (Eingang B)
Berlin-Lichtenberg
Tram M8, 21: Herzbergstr/Siegfriedstr
18:00 PÜNKTLICH!!!!
The participants in the SoundBoxes Workshop will present an immersive, surround-sound experience inspired by the works of Alvin Lucier, Pauline Oliveros, John Grzinich, David Tudor, Gordon Monahan and others, performed in a darkened room for an eyes-closed audience. In the piece, a swarm of individual, simple sound sources such as tones and textures are modulated and moved through the space physically by the performers to create a complex sonic environment. Delicate and intimate sounds pass closely near the bodies and ears of the audience, while stronger, more extreme sounds occur at the edges of the space to give a sense of the architecture of the room and the objects in it.
PLEASE ARRIVE AT 18:00 SHARP FOR THIS PERFORMANCE!
And then stick around for IPAs and a chance to demo some of the Macumbista sound instruments.
TIMETABLE
18:00: SoundBoxes Orchestra Performance (limited places!)
19:00: Derek Holzer vs Jeroen Vandsande "Duelling Benjolins"
20:00: SoundBoxes Orchestra Performance (limited places!)

SOUNDBOX ORCHESTRA PERFORMERS
Mert Aslantürk
Itai Bauman
Nicola Gomiero
Claire Guerin
Bethan Lloyd
Zeno Mainardi
Montse Torredà Martí
Manami N
Rory O'Brien
Javier Salthú
Max Virnich
Ben White
Chris Zahn
Lea Zamiecka
Tags:
berlin
,
performance
,
soundboxes
,
workshop