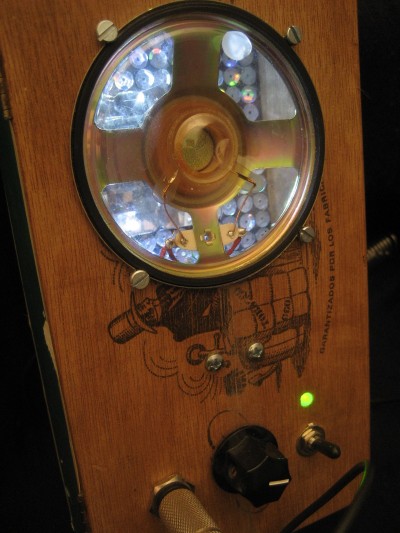 SOUNDBOXES WORKSHOP with DEREK HOLZER @ NK PROJEKT (BERLIN)
Saturday May 11 2013, 14:00-18:00
Sunday May 12 2013, 14:00-18:00
Discover the hidden sonic qualities of objects from our everyday world in this one day workshop, combining the arts of electronics, noise, sculpture and collage. The basic elements of this workshop are a wooden box, a speaker, a small audio amplifier, and a contact microphone. To this, brave box-builders will add their own found objects, graphics, images, memories and ideas to create a unique electroacoustic cabinet of curiosities.
No previous electronics experience is necessary for this workshop. Each participant is required to bring several items to the workshop, please see below.
WHAT TO BRING:
I will provide most of the tools and materials necessary for constructing the box, however there are a few things you should bring yourself:
1) A BOX: This should be made of thin wood or very strong cardboard. Plastic can be also used, but it doesn't sound very good. And please, no metal! It is too difficult to cut and drill with the tools we will have. This box should be a minimum of 10x10x4cm, or bigger if you want to use a larger speaker or have more room to decorate and add objects. Cigar boxes, small suitcases, instrument cases or jewelry/silverware boxes are all good things to look for. At least one side of the box should be no more than 5mm thick, to allow the hardware to be mounted.
2) A SPEAKER (OPTIONAL): I will have a selection of speakers for participants to use. However, if you have something special please bring it along, but please make sure it fits in the box you have chosen!
3) FOUND OBJECTS: Please bring as many found objects as you can to decorate your soundbox or use as a sound source via the contact microphone. Bones, shells, small sticks, bells, strings, wires, springs (especially!) or anything else made out of solid yet resonant material make great sound sources. Photographs, cloth, leather, paper or any other kind of material can be useful for covering the box and making collages. Paint, markers and pens may also be useful.
FURTHER INFO:
You can see videos and photos from previous SoundBoxes workshops here:
http://macumbista.net/?page_id=1897
You can see all posts related to SoundBoxes, including ones I have made for sale recently, here:
http://macumbista.net/?tag=soundboxes
ABOUT THE INSTRUCTOR:
Derek Holzer (1972) is an American sound artist based in Berlin, whose current interests include DIY analog electronics, sound art, field recording and the meeting points of electroacoustic, noise, improv and extreme music. He has played live experimental sound, as well as taught workshops in noise art technology, across Europe, North America, Brazil and New Zealand.
BASIC INFO:
Fee: EUR 30 (participation) + EUR 10 (materials)
Registration is required and can be done by sending an email to info@nkprojekt.de with the subject line "SoundBoxes". This is a one day workshop, please indicate which day (SAT or SUN) you would like to attend when making your reservation.
Number of Participants: Minimum 6/Maximum 12
LOCATION:
NK Projekt
Elsenstr. 52 2HH 2Etage
12059 Berlin
+49(0)17620626386
Tags:
berlin
,
photo
,
soundboxes
,
workshop