Regnskog Bergen 2010 from macumbista on Vimeo.
Regnskog is a contemporary re-interpretation of David Tudor's series of compositions from the 1970's entitled Rainforest. It uses various types of sonic transducers to play live sounds through the assortment of resonant metal objects suspended by wires in the performance space. Additionally, an 8×8 matrix mixer allows the sound from any of the objects to be sent to any of the performers, making the whole piece an experiment in generative chaos.
The structure of the piece is improvisational, shifting between relatively static installation-like moments and performative sections where the artists seek new relationships with the objects and each other. The audience is free to move around the performance space, engage in conversations and explore the resonant objects, thus adding new life to the rainforest.
The performers: Harald Fetveit (Oslo), Gisle Frøysland (Bergen), Derek Holzer (Berlin), Ryan Jordan (London), Jørgen Knudsen (Bergen), Signe Lidèn (Bergen), Julien Ottavi (Nantes), Jørgen Træen (Bergen)
Produced 10-16 October 2010 in Bergen, Norway by Piksel.no. Video by Derek Holzer and Elisabeth Nesheim.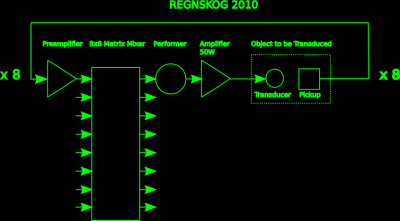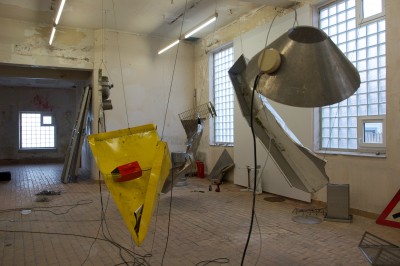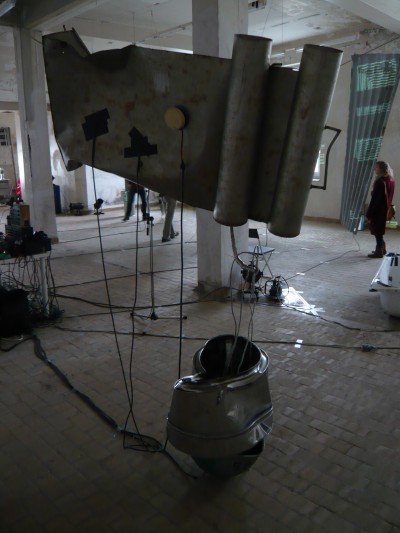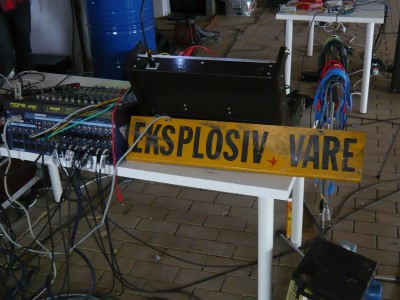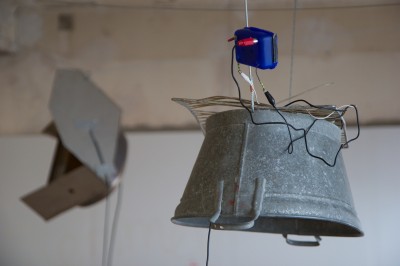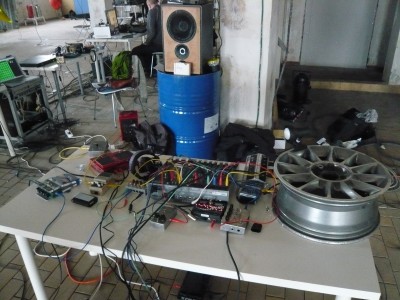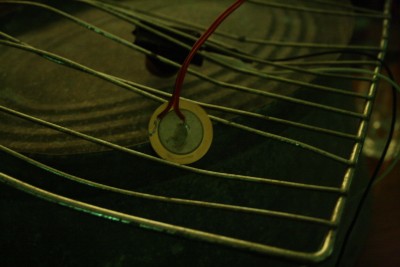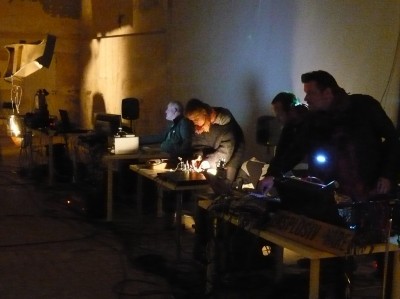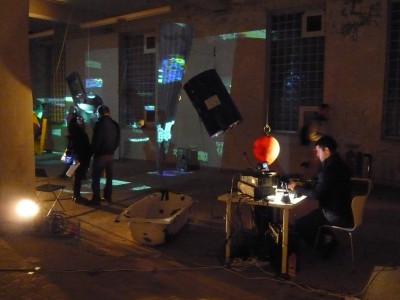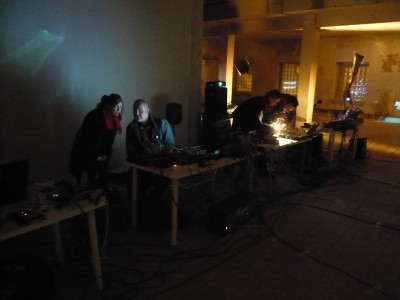 Photos courtesy of Elisabeth Nesheim, Signe Lidèn and svennevenn
Reflections
After some years working in this experimental music scene, you realize that even if you put a bunch of performers in the same room and tell them they are working on the same thing, they all remain soloists at heart. Regnskog suffered initially as any group project might from egoistic hotdoggery, with some artists unable to look past the object in front of them as their own personal PA system. Once we got past that phase, things opened up quite a bit on the second night with many of us experimenting with the entire room as instrument and system, much as I originally intended. A small but highly engaged audience explored the room as well–listening, looking, touching and even singing with the pieces! It was a massive learning experience for me personally, which I hope to benefit from with the next two prospective versions of the project in Berlin and Tallinn during 2011. Details as soon as they are confirmed…
Tags:
installation
,
norway
,
performance
,
photo
,
rainforest
,
video
,
workshop