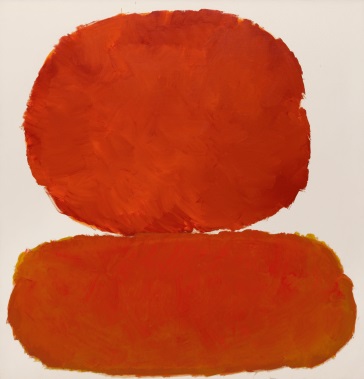 Raymond Parker, Untitled, 1959
While Pop art constantly referred to contemporary society through its reconfiguration of consumerist images, Color Field painting consciously distanced itself from societal referents and focused on the lyrical possibilities of color.
—"Color Fields" exhibition catalog, Deutsche Guggenheim, 2010
An Estonian art student recently informed me that, "since WWII" as he was taught, the position of the artist has essentially become that of a conceptual engineer rather than that a mere "craftsman". I did as best I could to protest. On the one hand, I argued, this means that the artist is largely divorced from the process of creating their own work. All the would-be Jeff Koonses or Damien Hirsts who relegate their labor to hired armies of technicians and assistants lose the direct familiarity with the medium that they work in, and subsequently miss out on any suggestions that the materiality of that medium might have on their creative process.
On the other hand, what it leads to is a vision of art as a cynical manipulation of symbols and referents alone. Whether it is the visual-arts hipster ironically juxtaposing iconic cultural references, or the media-arts nerd sonifying stock market data streamed at them through Twitter, it all becomes a series of artistic black boxes where we can only assume that what comes out has some relationship to what went in. And when anything=anything, the end result is that the we the artists take a stand on nothing.
One week it's unwatchable "found footage" from YouTube in the galleries, the next it's sock monkeys, with everyone in the monkey camp loudly denouncing those who still prefer handycams to knitting. The Estonian student's professor once placed a golden replica in the former location of a controversial Soviet-era statue in Tallinn.  In his 5 minutes of fame on the evening news, he preferred to mumble something about "relational aesthetics" rather than admit that the action might actually mean something. And so we the audience…in the end we can believe in nothing.
When I began working on the TONEWHEELS project, I was more interested in the technical side of this equation: how to avoid the black box of the computer and how to demonstrate a tangible connection between image and sound. But now I see how it addresses the conceptual side as well.  By working with direct optical synthesis, I hope (in a similar manner to the Color Field painters of the 1960s, the subject of a current exhibition at the Deutsch Guggenheim) to shortcut this reliance on symbols and intellectualism in favor of the only thing left to believe in: the direct, personal and physical experience of light and sound.
Tags:
Essay
,
tonewheels