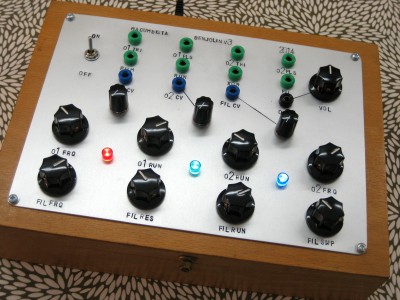 Meine Damen und Herren… may I present the last Benjolin I will build in the year 2014.
The Benjolin is a standalone synthesizer designed by Rob Hordijk from the Netherlands. It contains two oscillators (one LFO and one VCO), a voltage controlled filter and a circuit called a "Rungler", which allows chaotic cross-modulation possibilities between the different parts of the circuit. Hordijk refers to the Benjolin as a circuit which has been "bent by design."
These hand-made Macumbista Benjolins (produced under licensed agreement with Rob Hordijk) have been further customized with a patchbay, which can be used to interface with other modular synthesizers or to setup further control voltage feedback systems within the Benjolin itself, attenuators on the three control voltage input and LEDs displaying the internal state of the Rungler.
You can see more photos and videos here: http://macumbista.net/?p=3935
This Benjolin is completed and ready to move, and just to get it out into the world a little bit quicker, I am offering FREE SHIPPING anywhere on the planet, this week only (payment must be in by 13 DEC).
Price is EUR 495 (incl 19% EU VAT) / EUR 416 (shipped outside the EU). Contact using the CONTACT page here or email MACUMBISTA at-the-domain GMAIL dot COM.
I am looking forward to newer, bigger and better things in the coming year.
I thank you kindly for your attention.
Derek
Tags:
benjolin
,
for sale
,
photo