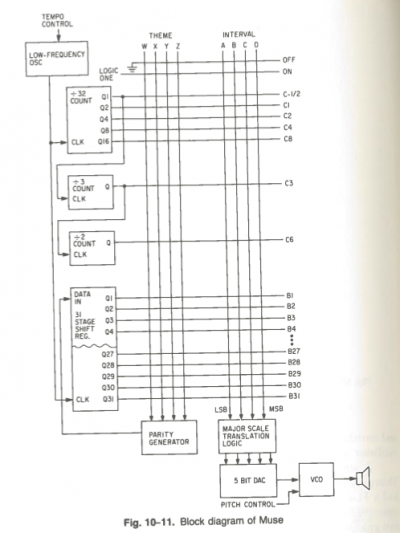 [Image: block diagram of the Triadex Muse, from "Musical Applications of Microprocessors", 2nd Edition, Hal Chamberlin (1987)]
The deadline for applications for the next Migrating Art Academies titled "Aesthetic – Responsibility – Drones" (2-7 May 2013, Berlin) is still a couple weeks away. We will select a few European participants to be sponsored with travel, accommodation and per diem.
Find info on MIGAA here: http://www.migaa.eu/aesthetic-responsibility-drones/
Info on my electronics workshop follows.
Autonomous Sonic Agents Workshop with Derek Holzer
In sonic terms, a "drone" can be considered an ongoing process which acts of its own accord. While this is commonly thought of as a steady tone or chord, much of my own work involves the creation of more complex, autonomous agents responsible for various parts of an audio composition. In this workshop, we will investigate different methods, involving loudspeakers, feedback and simple 9-Volt electronics, for creating such generative, self-playing sound systems. Each participant will construct their own primitive noise synthesizer, which they will present on the final day of the workshop. Please bring some type of wooden (preferred–cigar boxes are perfect!) or plastic enclosure to hold your circuit as well as any kind of speaker you can salvage from toys, radios, portable stereos or hi-fi systems.
Info/inspiration:
http://macumbista.net/?page_id=497
http://macumbista.net/?page_id=1187
http://macumbista.net/?page_id=1897
Tags:
berlin
,
synthesizer
,
workshop