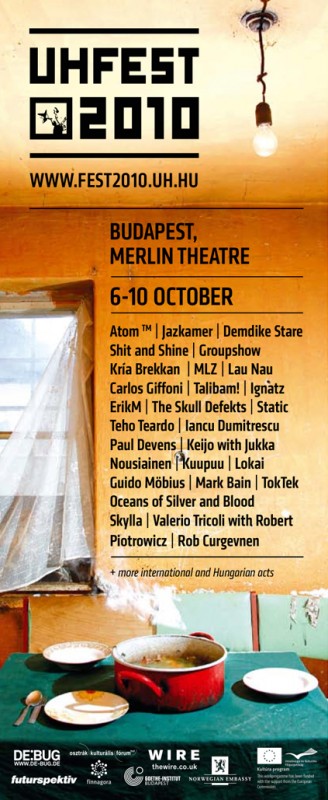 Just confirmed to play UH Fest on the night of 9 October, sandwiched tightly in between one workshop in Malmö and another in Bergen that I will post about later on. The UH set will be solo for chaotic analog synthesizer, smoke and lights.
So far the confirmed artists for the night are:
Derek Holzer
Lau Nau
Valerio Tricoli with Robert Piotrowicz
Kuupuu
Jazkamer
STU
Thomas Fehlmann
More fun than a poke in the eye!
Now Playing
antoine chessex–le point immobile 3″ cd[2010 mnoad]
antoine chessex & valerio tricoli–chessex/tricoli 12″[2010 dilemma][merci antoine!!!]
bastard noise–a culture of monsters cd[2010 deep six]
don hassler–no subsequent interference cd[2010 vicmod]
elu of nine–elu of the nine cs[2010 woodsmoke]
jason r. butcher–chaotic synthesis recording #3 cd[2009][thx jason!!!]
keith barnard–colour harmonies cs[1985]
neanderthal–official discography[1990-92]
Tags:
hungary
,
performance
,
playlist
,
synthesizer