This listing is out of date, please check this one for the latest information: http://macumbista.net/?p=1416
It's a bit painful doing this, but I have some urgent bills to pay in the next 4 weeks. I'm selling my mixed Cwejman/Analog Systems/Doepfer A-100 modular synthesizer system as well as one Sennheiser MKH40 microphone. Selling the synth isn't as bad as it seems, since I'm currently more than halfway finished building the DIY modular of my dreams…
Click photos to enlarge, of course.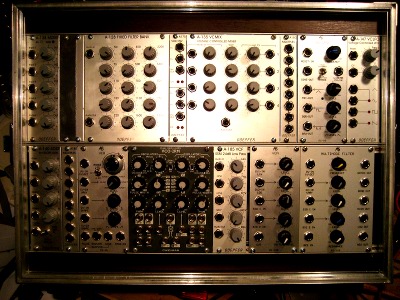 This A-100 system of mixed modules from Cwejman, Analog Systems and Doepfer is about two and a half years old, is in very good condition and is located in Berlin, Germany.
I'd prefer to sell the whole system together, but I can sell individual
modules if needed. Base price is now 75% of retail.
Still available as of 16 July 2010:
Doepfer A-100 Suitcase 220V    EUR 370 /75% = EUR 277.50
Doepfer A-175 Voltage Inverter    EUR 45 / 75% = EUR 33.75
Doepfer A-135 Voltage Controlled Mixer    EUR 120 / 75% = EUR 90
Doepfer A-138 Mixer (exp)    EUR 45 / 75% = EUR 33.75
Added 16 July 2010 (photos soon):
Doepfer A-199 Spring Reverb  (module only without tank, RCA jacks added to faceplate of module to allow tank to be kept outside case)
EUR 60 / 75% = EUR 45
Doepfer A-174-1 Joy-Stick (spring removed, still very stiff)
EUR 75 / 75% = EUR 56.25
Doepfer A-136 Distortion/Waveshaper (broken trace on PCB repaired by hand)
EUR 60 / 50% = EUR 30
Analogue Systems RS-40 Noise / Sample & Hold / Clock
EUR 139 / 75% = EUR 104.25
Analogue Systems RS-30 Frequency To Voltage Converter
EUR 115 / 75% = EUR 86.25
Sold as of 16 July 2010:
Analogue Systems RS-180 VCA   SOLD
Analogue Systems RS-110 Multimode Filter   SOLD
Analogue Systems RS-80 VC-LFO    SOLD
Analogue Systems RS-95 VCO    SOLD
Cwejman VCO-2RM Dual Oscillator    SOLD
Doepfer A-105 VCF SSM 24dB Low Pass    SOLD
Doepfer A-140 ADSR     SOLD
Doepfer A-147 VCLFO     SOLD
Doepfer A-180 Multiples     SOLD
Doepfer A-180 Multiples     SOLD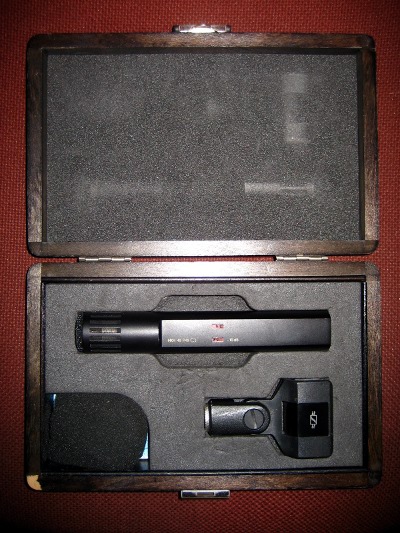 Sennheiser MK40 Cardioid Condensor Microphone + mic clip + nice wooden case
Retail = EUR 1200
SOLD
Contact: macumbista AT THE DOMAIN gmail.com
Tags:
for sale
,
synthesizer