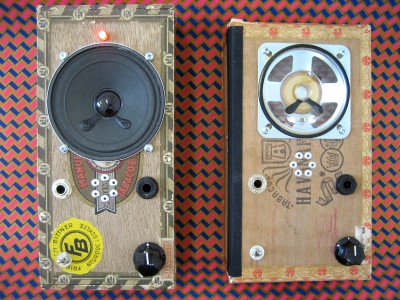 PROJECT SPACE KLEINER SALON, BERLIN DE
2-3 APRIL 2016
Explore DIY electronics and sound art performance with your own SoundBox during this two-day workshop in Berlin-Kreuzberg.
SoundBoxes are small, primitive electro-acoustic instruments built from a wooden box, a speaker, a small audio amplifier and a contact microphone. They can create a variety of drone and reverb-type sounds through feedback between the speaker and microphone, or they can bring out the hidden sounds found within everyday objects. They also have small touchpoints which can be used to produce a variety of "circuit bending" sounds.
During the first day, we will learn about electricity, how it becomes sound and then how to build the SoundBoxes themselves. On the second day, we will explore the possibilities of the SoundBoxes, with the goal of collaboratively creating a score for a sound performance of approximately 10-15 minutes in length.
This workshop does not require any previous knowledge of electronics, only an interest and a curiosity in both sound and instrument-building.
DETAILS/REGISTRATION
http://www.artisticworkshopseries.com/derek-holzer-soundboxes
VIDEOS

nonlinearity I from macumbista on Vimeo.
nonlinearity III from macumbista on Vimeo.
SoundBoxes Workshop + Performance Berlin JUL 2015 from macumbista on Vimeo.
Thank you for your kind attention.
Derek
Tags:
berlin
,
soundboxes
,
workshop