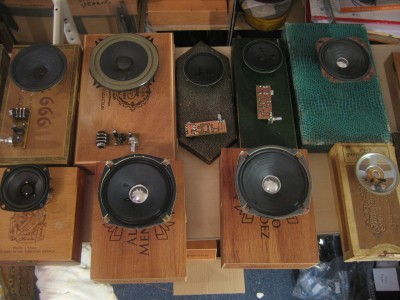 I have been working on a series of SoundBoxes for sale and as gifts for the Winter Solstice 2012. These SoundBoxes contain a 1/2 Watt audio amplifier, a small speaker and a resonant contact microphone, all housed in beautiful antique cigar boxes or jewelry/silverware cases. Each box is unique and hand made, and bears the traces of its history as an everyday object before it was transformed into a primitive, intuitive feedback-sound-instrument.
This run of SoundBoxes is quite similar to ones which participants have created in my workshops over the last couple years. They can be used to create self-modulating drones, as seen in this video, or to bring out the hidden sounds within found objects as seen in this video.
Finally, as they run on a single 9V battery, you could make a portable concert with any other kind of sound input, such as a guitar, keyboard or smartphone. Some boxes include an line-output, "circuit-bending" style body contact points or a transparent, backlit speaker providing a window to graphical images or patterns inside the box, as in the Ghost Lockets series from last year.
Please contact me at MACUMBISTA at_the_domain GMAIL.COM (or use the contact page) during the coming week of 3-9 December if you are interested in purchasing one of these before 2013! I will be away from my studio from 12 Dec to 13 Jan. Prices range from EUR 50-90, depending on the box used and features included.
I have several styles of antique boxes to choose from (as seen in the first picture in this post), as well as the different added features mentioned. Some of the following boxes may also still be available, as noted. In addition, I can create made-to-order SoundBoxes from antique boxes in my stock at the moment.
All SoundBoxes come with a resonant spring contact microphone.
SET ONE: R.QUIRK COMMISSION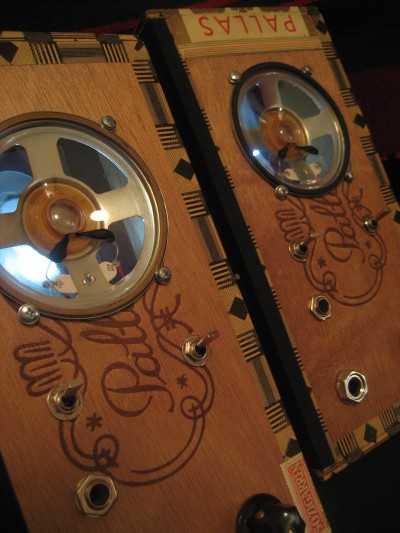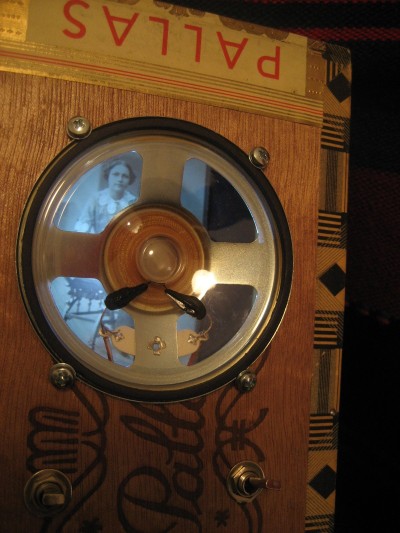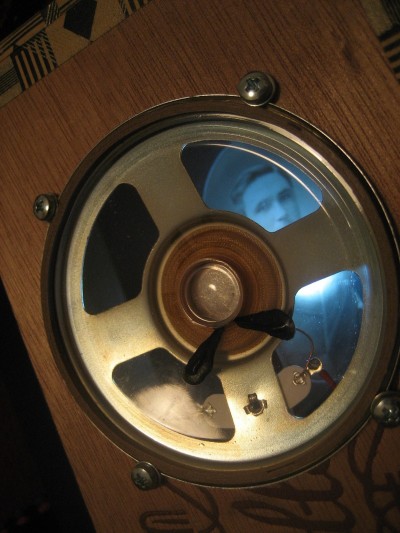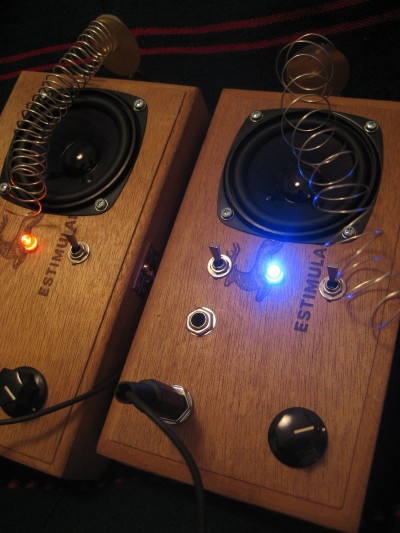 Set of four SoundBoxes, made in cedar cigar boxes and commissioned by Richard Quirk. The top pair includes a backlit 77mm transparent speaker, providing a view to two different antique Danish photographs from approximately the 1930s. The bottom pair uses powerful speakers to increase the physical resonance of the box and microphone. These boxes are SOLD.
SET TWO: SILVERCASES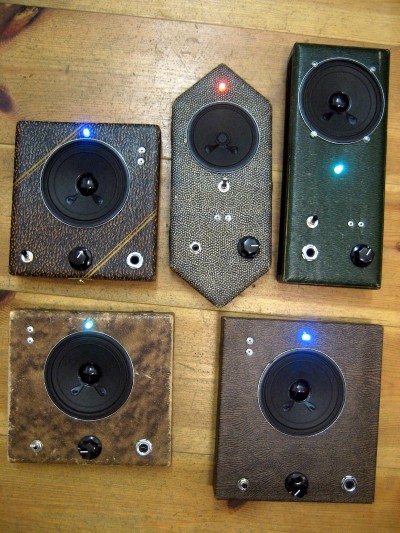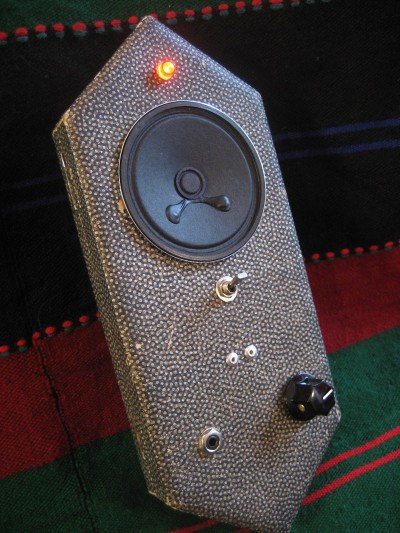 This set of SoundBoxes are built into a variety of antique cases for jewelry, pens and silverware which have been found in Berlin and Paris. These feature black 92mm speakers and audio-responsive color LED lights. The textures of these cases are incredible, my favorite being the fountain-pen case in the top middle (which uses a minijack plug and 77mm speaker). The fountain-pen case and the box with the diagonal stripe, both pictured in close-up above, are SOLD. Besides those, all the rest of these boxes are available for sale.
SET THREE: LARGE SPEAKERS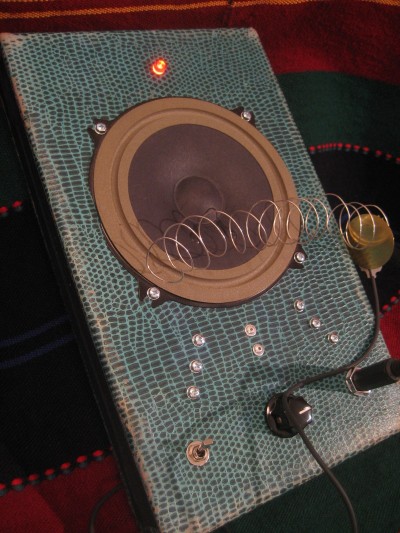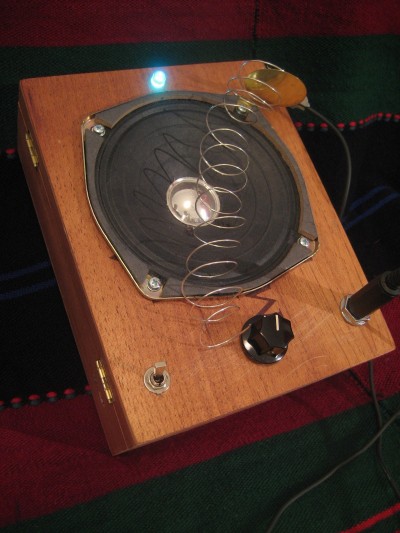 In general, the speakers I use are either 92mm or 77mm wide, however occasionally I find large boxes and therefore prefer to use larger speakers. The top box once contained a set of silverware and now contains a set of six "circuit-bending" body contacts, while the bottom box still contains the aroma of tobacco. These are the only large-speaker SoundBoxes I am currently offering for sale. BOTH SOLD!!!!
SET FOUR: 77mm BOXES
These boxes are available for made-to-order SoundBoxes. They are drilled to use a transparent 77mm speaker. The inside of these boxes is lit by an LED, and images or graphics can be placed inside, as seen below in these examples from last year's collection: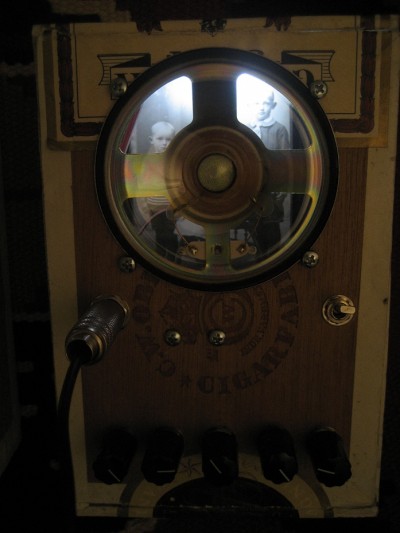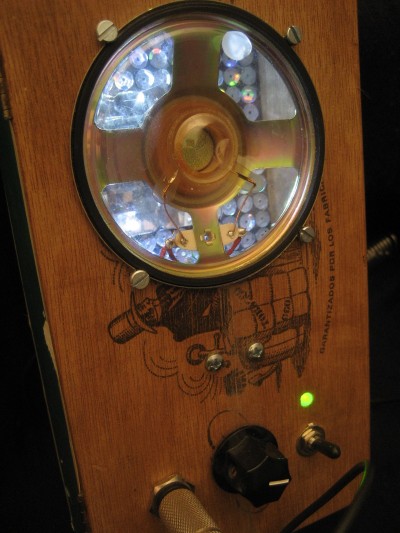 SET FIVE: 92mm BOXES
These boxes are available for made-to-order SoundBoxes. They are drilled to use a black 92mm speaker. I have several of the box in the rear-middle, marked "Pallas", as seen below: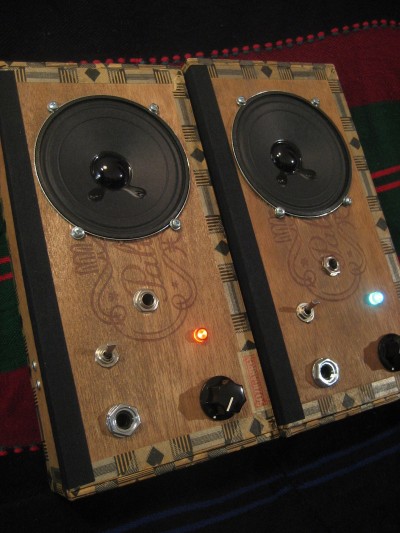 PAPER OPTIONS
These Japanese chiyogami 70g/m² patterned papers are currently available for decorating the interiors of the SoundBoxes which have transparent speakers. Other options include vintage photography prints, reflective paper (silver, gold), other found objects (bones, shells, reflective materials…) or custom graphics printed from your digital file.
Thank you for your kind attention.
Derek
Tags:
for sale
,
photo
,
soundboxes