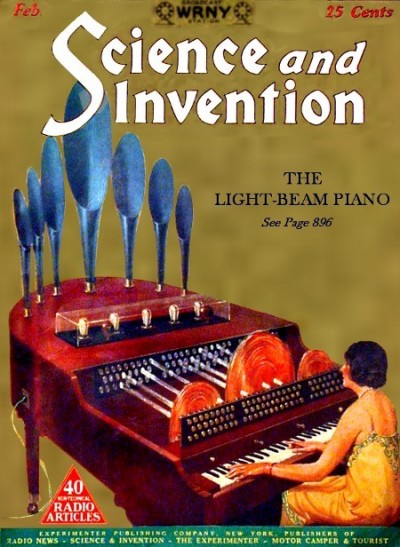 I have been invited to give a lecture on optical sound synthesis as well as perform the TONEWHEELS live set as part of the Eye for an Ear Festival in Berlin later this month. There are quite a few other amazing people involved in this, namely Andrei Smirnov, whose recent book "Sound in Z: Experiments In Sound And Electronic Music In Early 20th Century Russia" is one of the best things I've read in the last year.
Full details should be available on the NK website soon, and those of you with FaceBook can access the event page here.
LECTURE

"A Brief History of Optical Synthesis", a lecture by Derek Holzer, Wed June 26th 21:00 at NK Projekt Berlin
The technology of direct optical synthesis arose with the first sound-on-film motion pictures. In the 1930's, several designs for optical synthesizers were produced in the USSR, Germany and United States, with a handful even being commercially realized to great amount of techno-utopian hype. The future of sound, we were assured, was made of light.
However, the use of optical synthesis for electronic music creation was largely abandoned after the Second World War in favor of techniques derived from new military technologies which made the V2 rocket and the atomic bomb possible. Thus, contemporary research into optical sound synthesis represents a media-archaeology of "the road not taken", that of a connection to the culture of film and music versus the science of destruction and death.
PERFORMANCE
TONEWHEELS (Derek Holzer: sounds, electronics), Friday June 28th 20:00 at NK Projekt Berlin
TONEWHEELS is an experiment in converting graphical imagery to sound, inspired by some of the pioneering 20th Century electronic music inventions. Transparent tonewheels with repeating patterns are spun over light-sensitive electronic circuitry to produce sound and light pulsations and textures. This all-analog set is performed entirely live without the use of computers, using only overhead projectors as light source, performance interface and audience display. In this way, TONEWHEELS aims to open up the "black box" of electronic music and video by exposing the working processes of the performance for the audience to see.
Tags:
berlin
,
lecture
,
performance
,
tonewheels