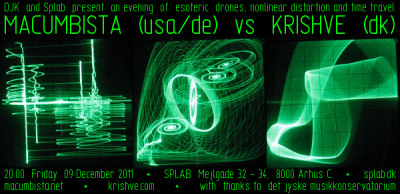 DKJ and Splab present an evening of esoteric drones, nonlinear distortion and time travel:
MACUMBISTA (us/de) vs KRISHVE (dk)
20:00 Friday 09 December 2011 * SPLAB Mejlgade 32 – 34, 8000 Århus C
splab.dk * macumbista.net * krishve.com
with thanks to det jyske musikkonservatorium
The Wrapup
After four months of a lovely little house, a good studio and a decent paycheck (all in the same city!!!), the jig is up in a few short weeks. By the time my residency here in Aarhus concludes, I will have done 5 workshops, played 5 concerts, built more than a half dozen sound boxes and a couple synthesizer modules, produced one sound-video and recorded more hours of synthesizer improvisations than I will ever have time to edit.
Here's Tore "Origami" Boe, mi amigo noruego and proud owner of a brand new SoundBox during his evening for DJM/DIEM: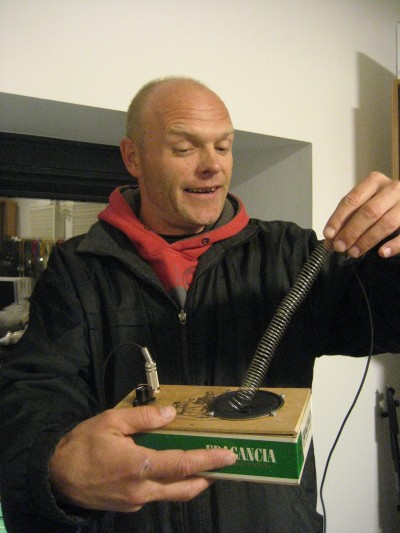 I leave Aarhus on 21 December, spend a few short days in Berlin and leave almost immediately for Riga, Mooste, Tartu, Tallinn and Helsinki. I had initially planned to do one more Rainforest piece here in Aarhus before I left, but it had to be postponed until the spring. So I will do an informal improvisation with Krishve at SPLAB as a going-away of sorts. Wish us luck and see you all in 2012!!!
Now Playing:
aluk todolo–ordre[2011 ajna offensive]
asva–presence of absence[2011]
bonnie prince billy–wolfroy goes to town[2011 domino]
corrupted–garten der unbewusstheit[2011]
falls of rauros–the light that dwells in rotten wood[2011]
king midas sound–waiting for you[2009]
kinit her–divine names[2010 brave mysteries]
leviathan–true traitor, true whore[2011 profound lore]
oneohtrix point never–replica[2011 software]
pharaoh overlord–out of darkness[2011 ektro]
the skull defects feat. daniel higgs–2013-3012[2011 thrill jockey]
the skull defects feat. daniel higgs–peer amid[2011 thrill jockey]
wolves in the throne room–celestial lineage[2011]
Tags:
denmark
,
performance
,
photo
,
playlist
,
soundboxes