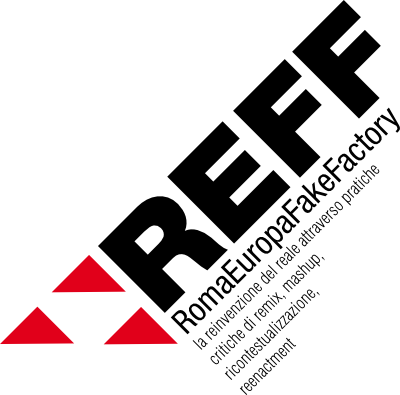 The Soundtransit.nl project has been featured in a selection of essays and articles on open source art and culture published by REFF/RomaEuropa/FakeFactory. This book is available in print form (somewhere…) and electronic form (here). Their website(s) and general presence seem completely disordered and confusing, as only the Italians can do, however it does look like an interesting collection with a few artists/theorists I have heard of before and a lot of new names.
Unfortunately, by the end of the year Soundtransit will no longer exist in its current form. I'll post more on this later on, however it would be safe to safe the project has run its course.
REFF, RomaEuropa FakeFactory: critique, arts, culture, publishing and augmented reality
REFF RomaEuropa FakeFactory, a book in augmented reality, a performance about critical innovation on cultural policies and forms of expression, an open source system to produce cross-medial publications.
AUTHORS, ARTISTS & CURATORS
(in alphabetical order)
"VOICES"
Richard Barbrook, Tatiana Bazzichelli, Germana Berlantini, Mike Bonanno, Loretta Borrelli, Andy Cameron, Massimo Canevacci, Francesca Canu, Carlo Cappa, Antonio Caronia, Dario Carrera, Stefano Coletto, Fiorello Cortiana, Umberto Croppi, Marco Fagotti, Marc Garret, Alex Giordano, Maria Hellström Reimer e Milica Lapčević, Lorenzo Imbesi, Stephen Kovats, Simona Lodi, Francesco "Warbear" Macarone Palmieri, Federico Monaco, Movimento ScambioEtico, Andrea Natella, Eleonora Oreggia aka xname, Luigi Pagliarini, Federico Ruberti, Marco Scialdone, Guido Scorza, Valentina Tanni, Jasmina Tescnovic, Cristina Trivellin e Martina Coletti
"VISIONS"
0100101110101101.ORG, Antoni Abad, Alterazioni Video, Apparati Effimeri, David Benqué, Jens Brand, Alex Dragulescu, Amy Francescini (Future Farmers), Flyer Communication (FLxER), Derek Holzer, Carlo Infante, jodi.org, Steve Lambert, Les Liens Invisibles, Fosco Loiti Celant, Garrett Lynch, Guthrie Lonergan, Quayola, Rebar Group, Ben Rubin, Adam Somlai-Fischer (Architecture), Sosolimited, Eugenio Tisselli, Troika, Hannes Walter e Stephen Williams (Fluid Forms), Marianne Weems (The Builders Association), Clemens Weisshaar e Reed Kram, Jaka Železnikar
Edited by:
Cary Hendrickson, Salvatore Iaconesi, Oriana Persico, Federico Ruberti, Luca Simeone (FakePress)
Available in the best bookstores from November 2010
Tags:
italy