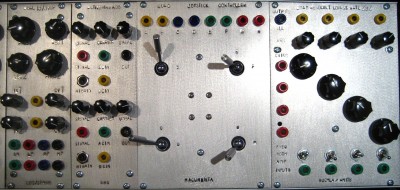 Hot off the bench! Click to enlarge!
Dual Serge 1973 Voltage Controlled Filter (CGS)
Dual Active Real Ring Modulator (CGS)
Quad Joystick Controller (Macumbista)
Quad Resonant Lopass Gate 292 (Buchla/T. White)
Think I'm gonna build me a little analog computer next, something like this one. All this stuff should get put to good, chaotic feedbacking use for my ISEA Dortmund performance in a few weeks.
Now Playing
whitehouse–great white death special edition cd[1984/1997 susan lawly][iiiiiiiiii'mmm cooooommmiiiiiiiiiinnnnnggg…]
Tags:
photo
,
playlist
,
synthesizer