So the TONEWHEELS tour has come to end. Stokes of luck seem to have characterized it… lucky to get out of Europe right before mighty Eyjafjallajökull reminded everyone of what silent skies would sound like, and lucky to get out of NYC right before some nutjob got the idea to try toasting Times Square with a propane-fertilizer cocktail.
Another stroke of luck was that, when The Starlab venue got flooded, mi amiga Jessica Rylan stepped up to the plate and offered her artist-in-residence studio at MIT in Cambridge as a replacement! A small but dedicated audience turned up, and in particular I got to experience the amazing transcendental drones of Benjamin Nelson. Shawn Greenlee's set was also smokin', as was the "final show" of Karlheinz, and I was rather intrigued by Animal Steel's collection of drugged-out Judy Garland tapes. His nonchalant delivery of said material came as quite a surprise for those accustomed to his orgies of destruction as one half of Two Dead Sluts One Good Fuck.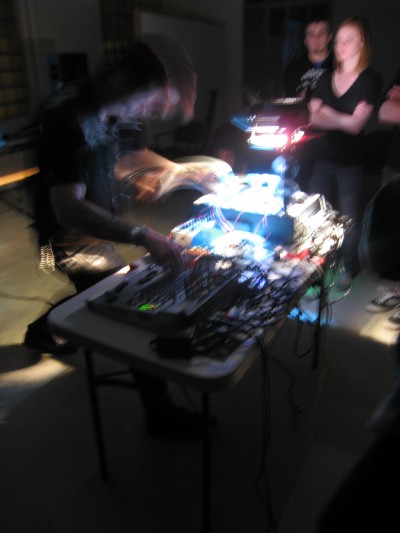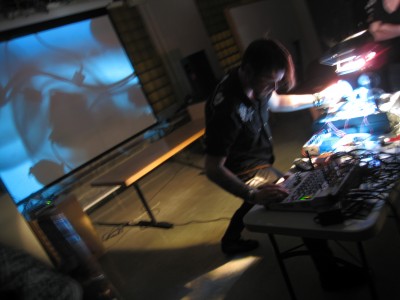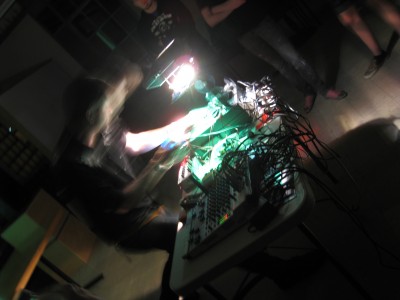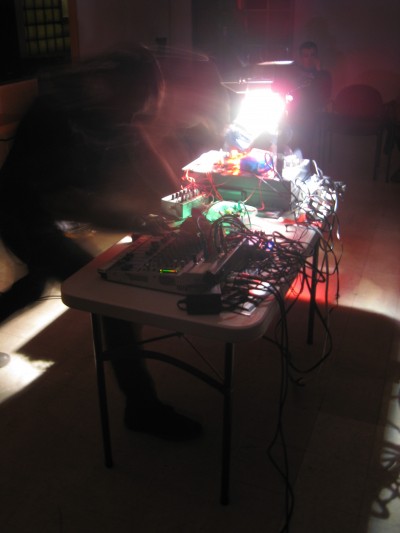 Photos by Shawn Greenlee
The Providence show at AS220 was also a complete mental blowout, in particular seeing Human Beast's combination of noisy, arty-farty tights, carny sideshow vibes and suspended-upside-down-from-the-ceiling organ playing. Brian Chippendale's solo Black Pus project also rocked out, sort of a messier, more freeform version of his Lightning Bolt sets, if you can imagine that…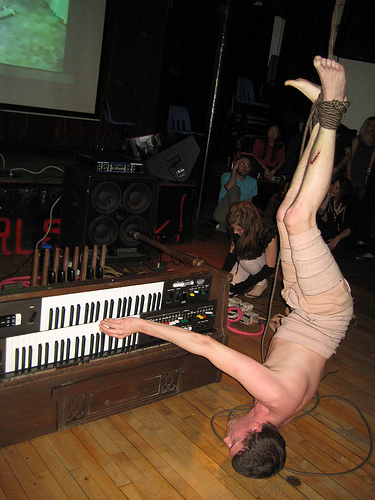 Photo by Tatyana Yanishevsky
The Rhode Island/Massachusetts leg of the tour would have been impossible without the phenomenal energy and hospitality of Shawn Greenlee. Thanks a million, man!!!!! Thanks also go out to Jessica Rylan and Egan Budd for hosting and organizing the MIT gig, and to all the other acts that played on the two bills (and it was quite a few!).
And finally, one more photo from the TONEWHEELS set at the Bent Fest in NYC, this time by Eric Archer: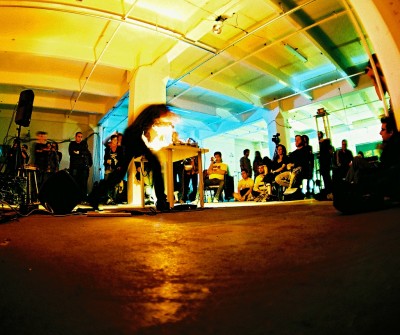 Now Playing
antonio russek, raul pavon, roberto morales, vincente rojo–musica electroacustica mexicana 1960-2003[creel pone reissue]
benjamin nelson–live at the piano factory/standing field cs[2009 semata productions]
david behrman–wave trains[1998]
david tudor–live electronic music[1970-1984, leonardo music journal]
gordon mumma–live-electronic music[2002 tzadik]
ivo malec–triola[1978 ina-gram, avante garde project 148)
va–chinese experimental music 1992-2008 4xcd(2009 sub rosa)

Tags:
performance
,
photo
,
playlist
,
tonewheels
,
usa